Reveal for Segment
Overview
Connect Clearbit to Segment to automatically send site visitor data to your various Segment destinations. This integration is similar to the Clearbit email Enrichment integration, in that you can simply connect Clearbit to Segment without adding any additional code to your site!
With a few clicks you can automatically augment data for tracked, anonymous users flowing through Segment with company data, and fan that data out to all of Segment's integrations. Specifically, if you integrate Reveal with Clearbit, you can create ANY of the following use cases (assuming you have the appropriate 3rd party subscriptions):
Pipe Reveal data into Drift or Intercom for intelligent chat to convert more anonymous traffic

Create deep insights within your marketing attribution & demand generation funnel

Send data into Personalization platforms without installing any client-side code

Send data into GTM for advanced GSuite functionality

Create intelligent remarketing campaigns with Facebook, Adwords, and AdRoll

 
How It works

Clearbit Reveal works via a Clearbit API that receives identifying information from you and returns enriched user information.
You send data with an IP address to the API, and it returns information about the company the IP address belongs to (if that information is available). You will still need to manually configure your own ETL processes for each tool you want to utilize the Clearbit revealed company data.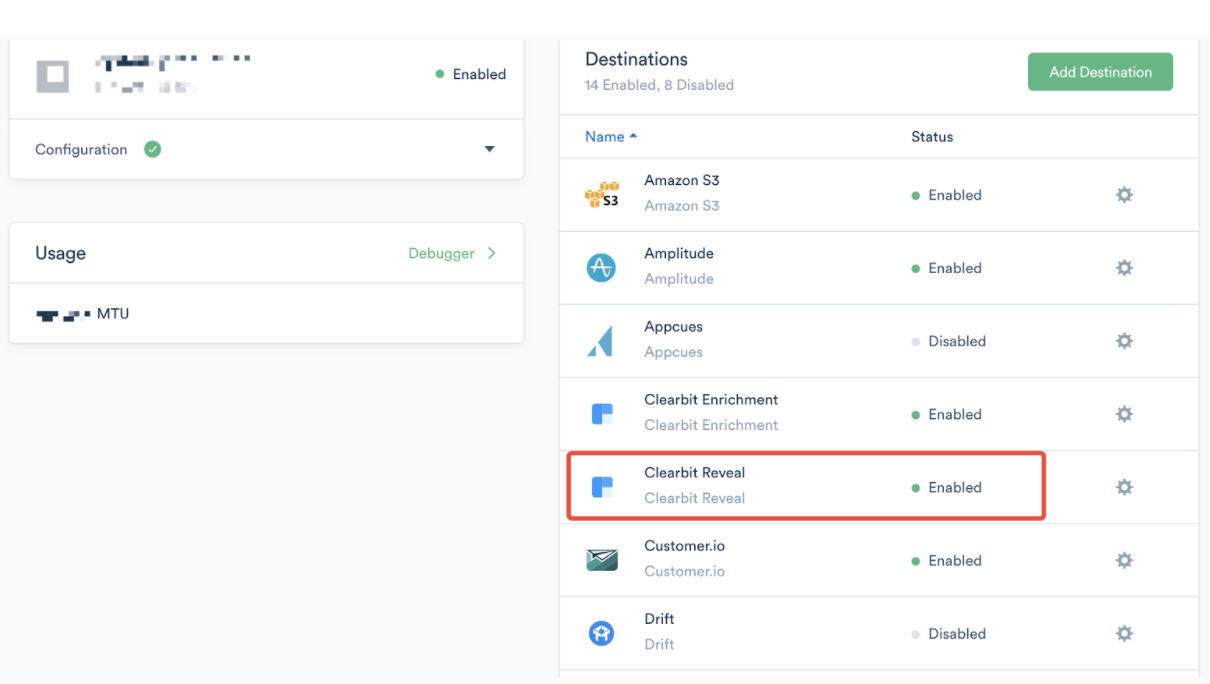 If you only wish to use Clearbit natively within single applications like Drift, Intercom, Salesforce, or Google Analytics, it is generally recommended that you use the native point integration. If you wish to take advantage of multiple use cases and have a granular analytic view, however, the Segment integration is the recommended approach.
Getting access
In order to use Reveal in Segment, you will need to subscribe to a Reveal Premium (API) plan and have a Segment subscription.  
If you only wish to access Reveal data Google Analytics, it is highly recommended (and cheaper!) that you install our native GA integration with some additional client-side code. Note that this does not include direct API access.
Reach out to Clearbit Success (success@clearbit.com) to ensure you have the right access!