SetUp Clearbit with Chili Piper
Chili Piper's Concierge allows prospects to trigger a live call or book a meeting immediately upon completing a form.
Now when people submit their information through your site, they don't have to wait around for hours or days (or potentially never) to hear back from someone to get the conversation started.
The meetings or calls are routed in real time to the right sales rep and logged in Salesforce ensuring fair and accurate distribution of meetings/calls.
Concierge integrates with all web forms via a JavaScript snippet or APIs.
You can use Clearbit's forms integrations with Chili Piper to create a powerhouse inbound process. Imagine asking for 2 fields instead of the industry average 6-7 form fields. With Clearbit's forms integrations and Chili Piper's Concierge, it's possible. And in the process, you'll have the best-validated data from web form submissions to ensure accurate routing.
How to integrate Clearbit Forms with Chili Piper's Concierge
First, you'll want to set up Clearbit Enrichment with your Marketo, Hubspot, or Pardot forms. Below are some resources to help. The articles and videos walk through the same steps, so pick whichever setup guide you're most comfortable with!
Marketo Forms:
HubSpot Forms:
Pardot Forms:
Once you've completed the steps in the forms setup guide, let's head over to Chili Piper. Chili Piper will sit as a javascript snippet so it's a simple copy-paste set up similar to the Clearbit form setup.
Inside of Chili Piper, you'll want to create a new "Concierge || Inbound Router":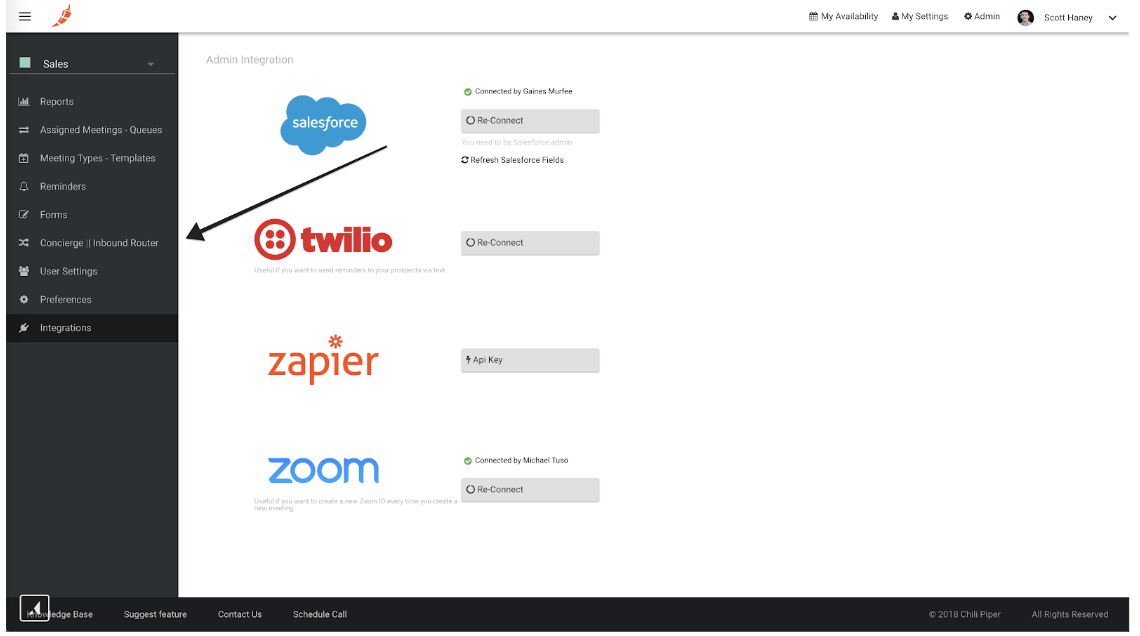 Inside your Concierge, you'll want to add the appropriate queues for scheduling, phone calls, and managing prospects that don't take action: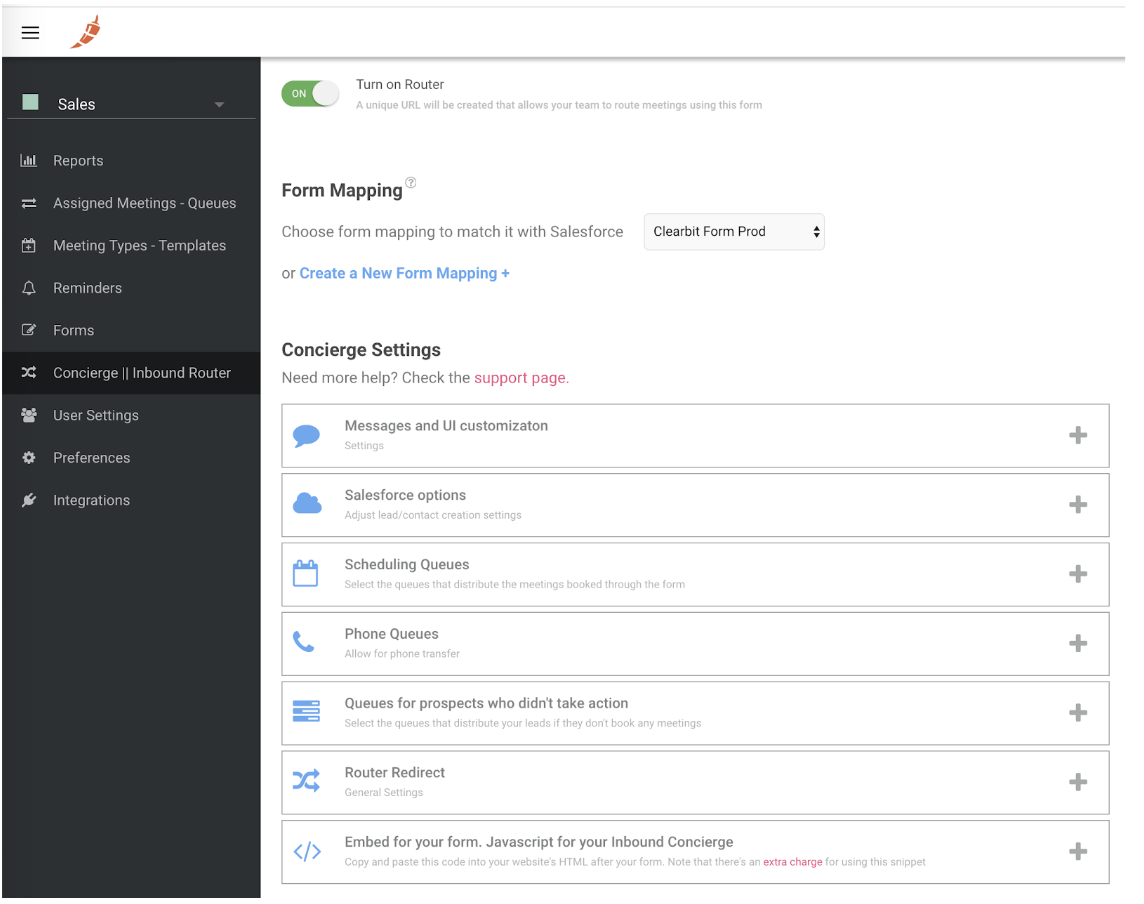 Chili Piper can additionally handle the redirect options for converted leads or leads that do not take action: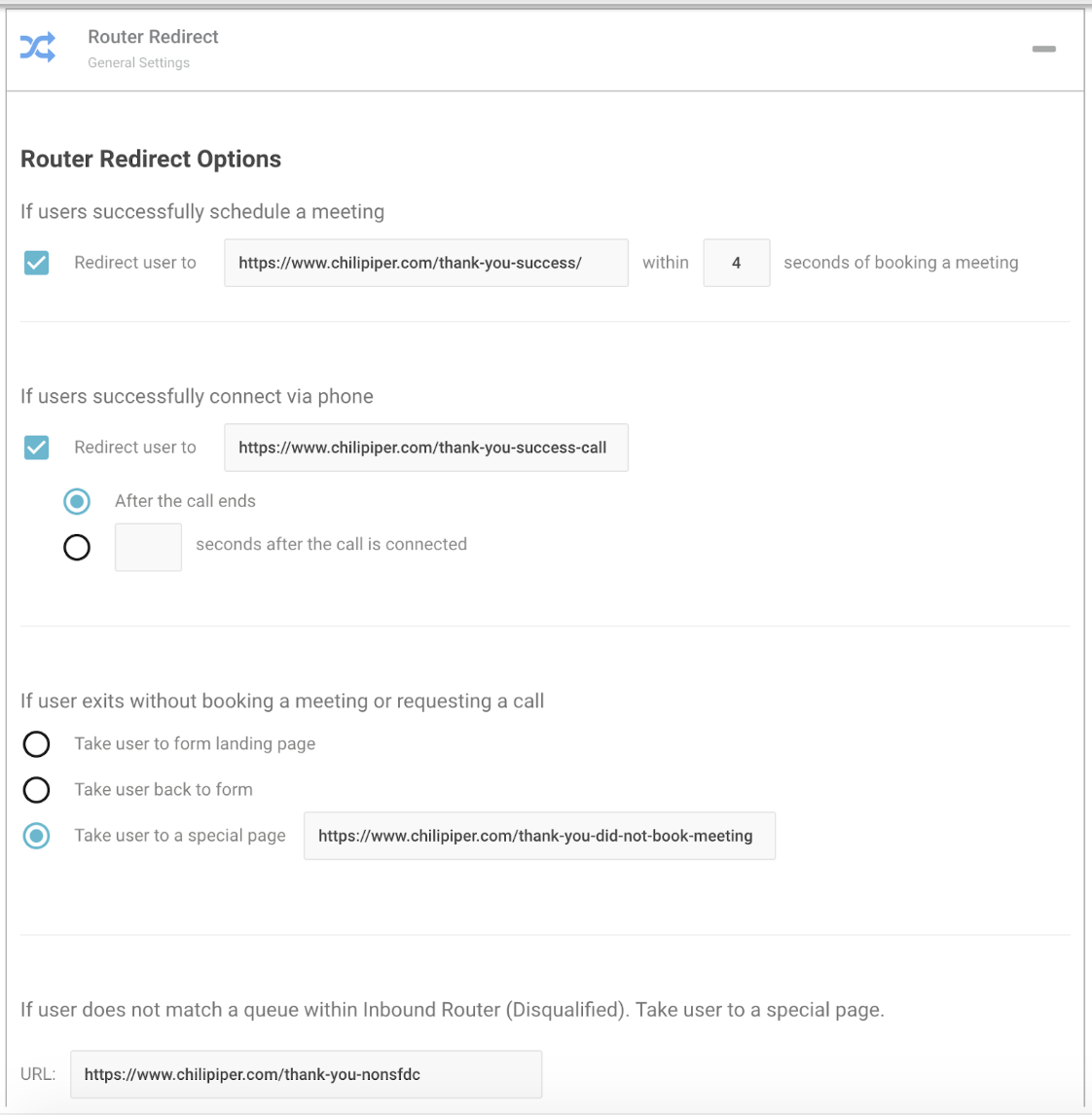 Next, copy Chili Piper's javascript snippet, and paste it below the Clearbit Form embed code: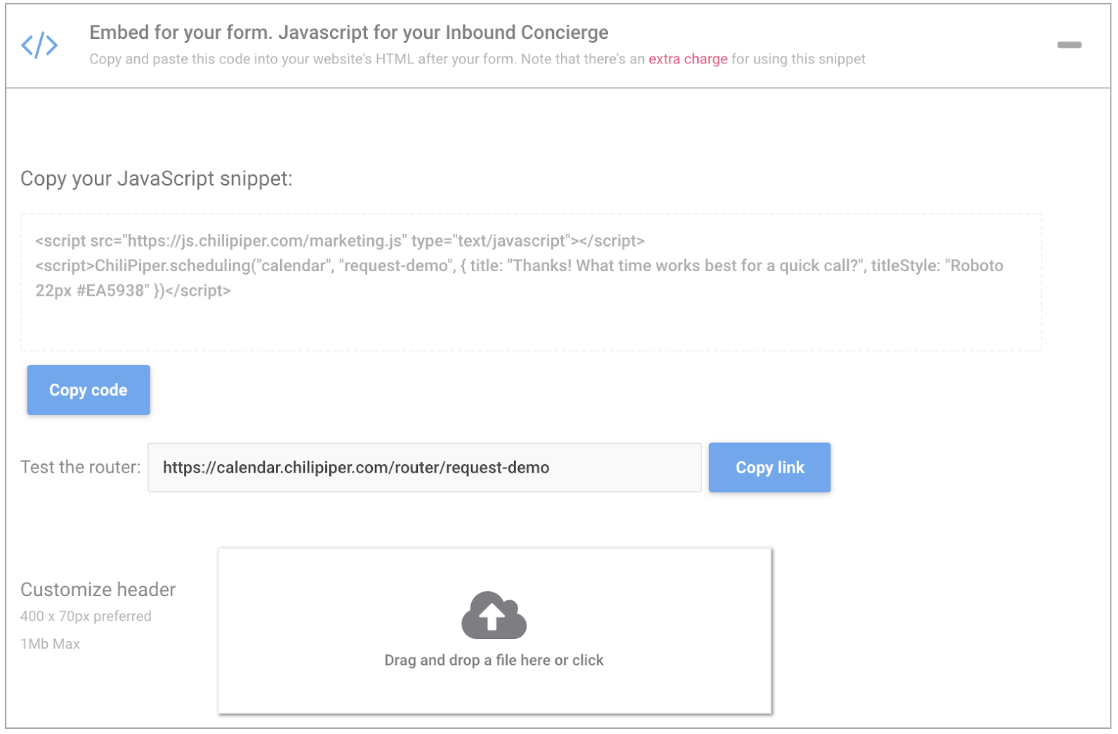 Lastly, give it a try and submit your info to see it in action: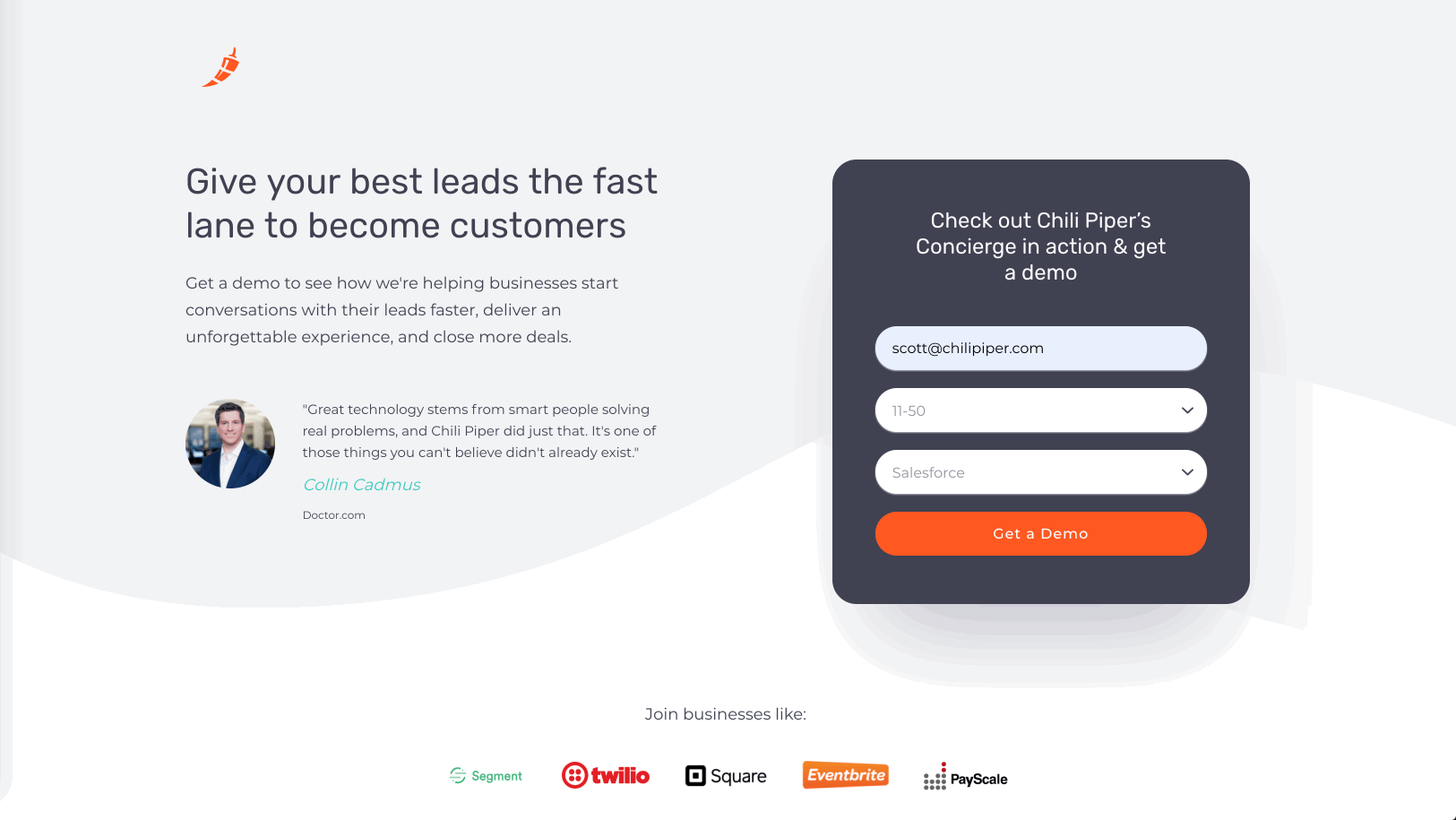 Qualify prospects using Chili Piper and Clearbit's Enrichment Data
Qualified leads will be presented with the option to "Book a Meeting" or "Talk Now". It's important to consider setting up qualifying rules with Chili Piper's Concierge because every business has good and bad leads.
You'll want to adjust the criteria to fit the qualifying information you deem important so your sales team is effectively spending time with only the best leads.
To do this, you'll want to click into a queue that is active in the Concierge || Inbound Router tab. Within the queue, you'll notice a section where you can add rules. This mirrors Salesforce's AND/OR logic.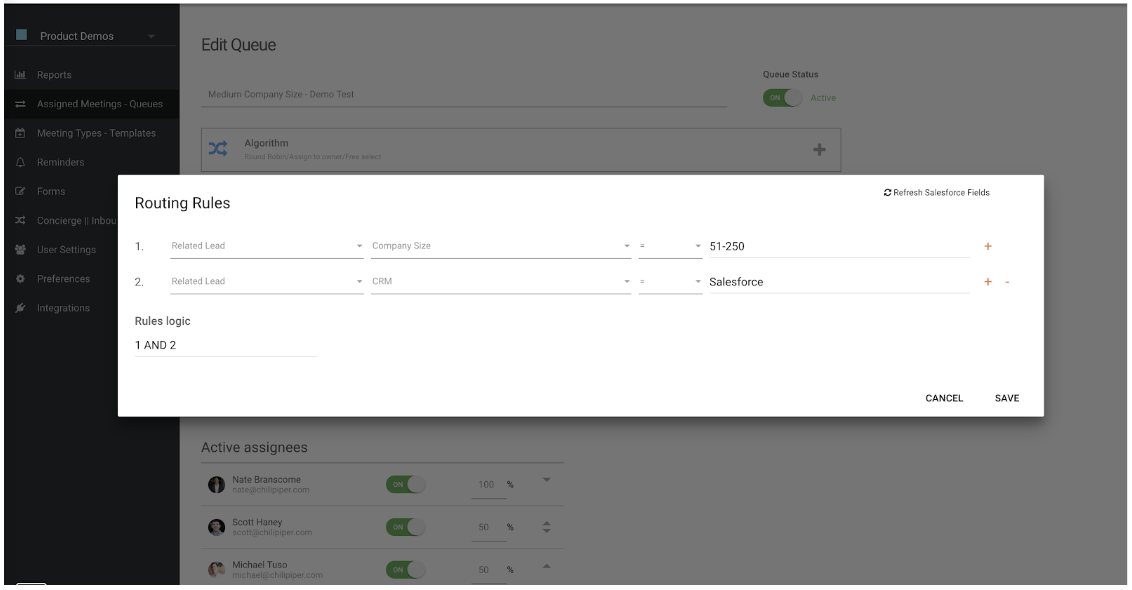 In this simple example, prospects that match a specific company size and are using Salesforce will be presented the option to book a meeting or talk now. Leads who are not using Salesforce and do not match that Company Size will be disqualified.
Chili Piper can route off of any field on the Lead, Contact, Account, and Opportunity object in Salesforce.
Measure your Success
Inside of Chili Piper, you'll have access to Concierge Analytics. The reports help provide a simple to use dashboard loaded with insights to help you optimize your revenue generating web forms.
You'll quickly begin to:
Gain visibility into your inbound sales funnel

Understand what converts - messaging, CTA's....A/B test it all and increase your conversion rates 🚀

Know how your Prospects want to engage - whether meetings or calls, you will know how to best cater to your buyers