What are Destinations?
Destinations are where you want Clearbit X to notify you of a new person or company joining your segments. In order to use Destinations, you must configure a Destination Trigger, which is a specific condition that must be met for the notification to appear in your Destination. Example triggers include when a new person or company is added or is removed from one of your defined segments.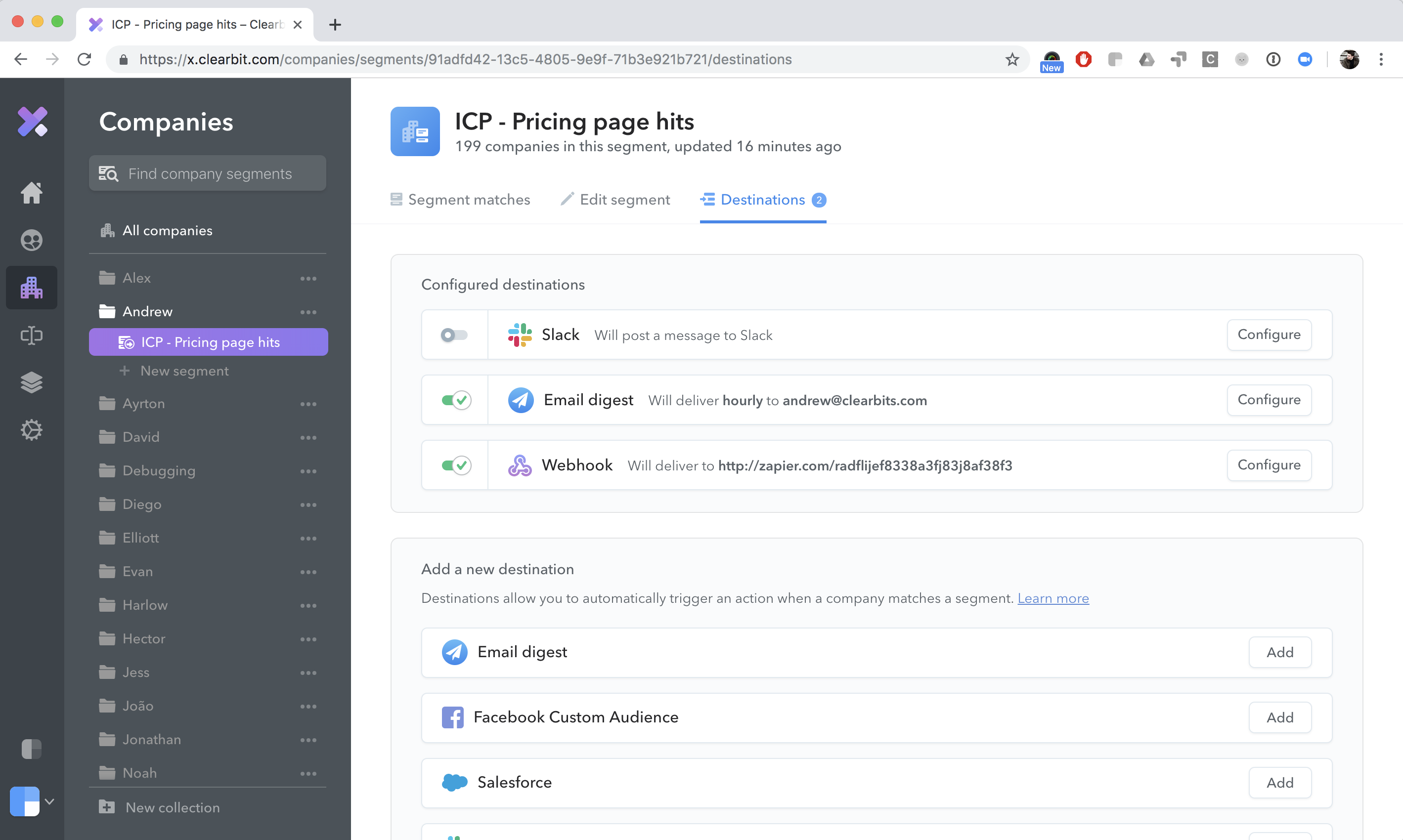 To get started simply click the Destinations tab while viewing any Segment.
With Destinations, you can trigger any number of advanced marketing workflows. For instance - 
Use the Facebook Custom Audience Destination to automatically sync any segment to a Facebook Audience and serve highly targeted ads using Clearbit, intent and SFDC data.
Use the Salesforce Destination to notify your account executives when an account with an open opportunity has a spike in traffic.
Use the Email Destination to send your sales team a weekly prospecting list of net-new accounts (i.e. accounts not in your CRM) that have hit your site in the last week and fit your ideal customer profile. 
Use the Slack Destination to s

end a notification to your customer success managers when one of their contacts leaves their job.
Alerting Destinations
---
Salesforce Destination - create a Task or post to Chatter when a company/person matches a segment
Slack Destination - post to Slack when a company/person matches a segment
Email Destination - send a scheduled email digest of companies/people matching a segment
Webhook Destination - post to a URL of your choice when a company/person matches a segment
Ads Destinations
---
Facebook Custom Audience Destination - create highly targeted ads by syncing a segment to a Facebook Custom Audience
What's next?
Here are some Destinations you can setup:
Then, for each Destination, create at least one Destination Trigger.