Facebook Custom Audience Destination
The Facebook Custom Audience Destination syncs any Clearbit audience with a Facebook Custom Audience.
Company Destinations will automatically sync any people you've added to Clearbit from the matching companies, while People Destinations will directly sync people matching the audience.
Common use-cases include -
Create a Custom Audience with all of your open Salesforce opportunities to focus your ad spend on late stage prospects.
Create a cross-sell campaign for customers who don't use products that they are ideal for.
Create an exclusion list of customers or specific prospect personas.
Improved match rates
Because most people use Facebook with their personal emails, creating a Custom Audience the traditional way of uploading a list of your customer's professional email addresses usually yields a fairly low match rate. Clearbit leverages proprietary Clearbit data to automatically match audiences at a much higher rate. In fact, we've seen customers' match rates double or triple.
Requirements
In order for the Facebook Custom Audience Destination to function, you will need to make sure the People section of Clearbit X is populated. You can add people by syncing with Salesforce or by identifying them via clearbit.js or Segment.
Enabling
The Facebook Custom Audience Destination can be enabled from the Destinations tab of any audience.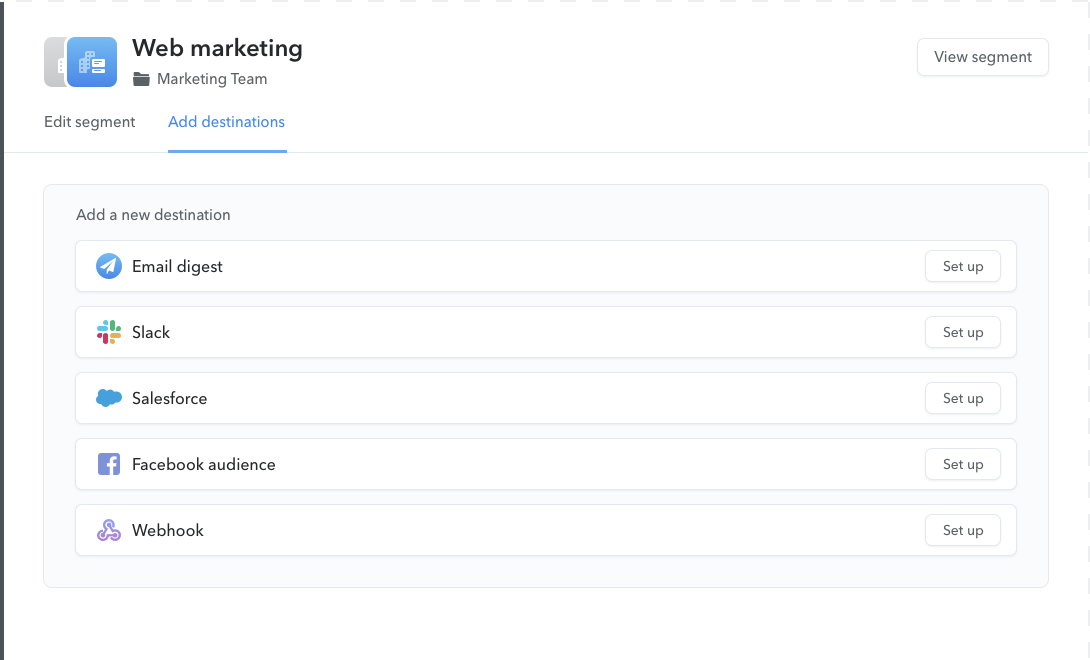 OAuth to Facebook
To use the Facebook Custom Audience Destination, you'll first be prompted to OAuth with your Facebook account. You can update your Facebook auth on our Configuration Page.
Settings
Trigger - Sets the criteria for a person/company to trigger the destination.
Options
Audience Sync -

The Destination is updated to stay in sync with an audience. In this case a person is added to the Custom Audience when they enter the audience and is removed when they exit the audience.
Facebook Account - Once you've authenticated to Facebook, you'll be able to select any business account that you manage.
Facebook Custom Audience - Select the audience that you want to sync the audience with, or select Create a new Facebook Custom Audience to name and create a new Facebook Audience directly from within Clearbit.
Managing your ads
Clearbit helps you automatically create powerful ads audiences. To manage those audiences, as well as your bidding, creatives and analytics, head to the Facebook Ads Manager.
What's next?
If you've already setup a destination, check out some example audiences for more ideas on how to use Clearbit!