Troubleshoot Enrichment for Hubspot
Last Updated: October 6, 2023 
For pricing information, please fill out the demo-request form on our pricing page to get in touch with a sales representative.
There are a few reasons you may not be seeing enrichment run on your HubSpot records, please follow each of the recommended troubleshooting steps. 
Make sure Email or Domain is filled in
Contacts: If no email is filled into the Email field, then Clearbit's integration will not be able to enrich the contact.
Companies: If no domain is filled into the Website field, then Clearbit's integration will not be able to enrich the company.
Make sure you have configured your Clearbit-HubSpot Field Mappings
You can check your field mappings here. If you do not have any field mappings set up, then no data will be added to your contacts or companies.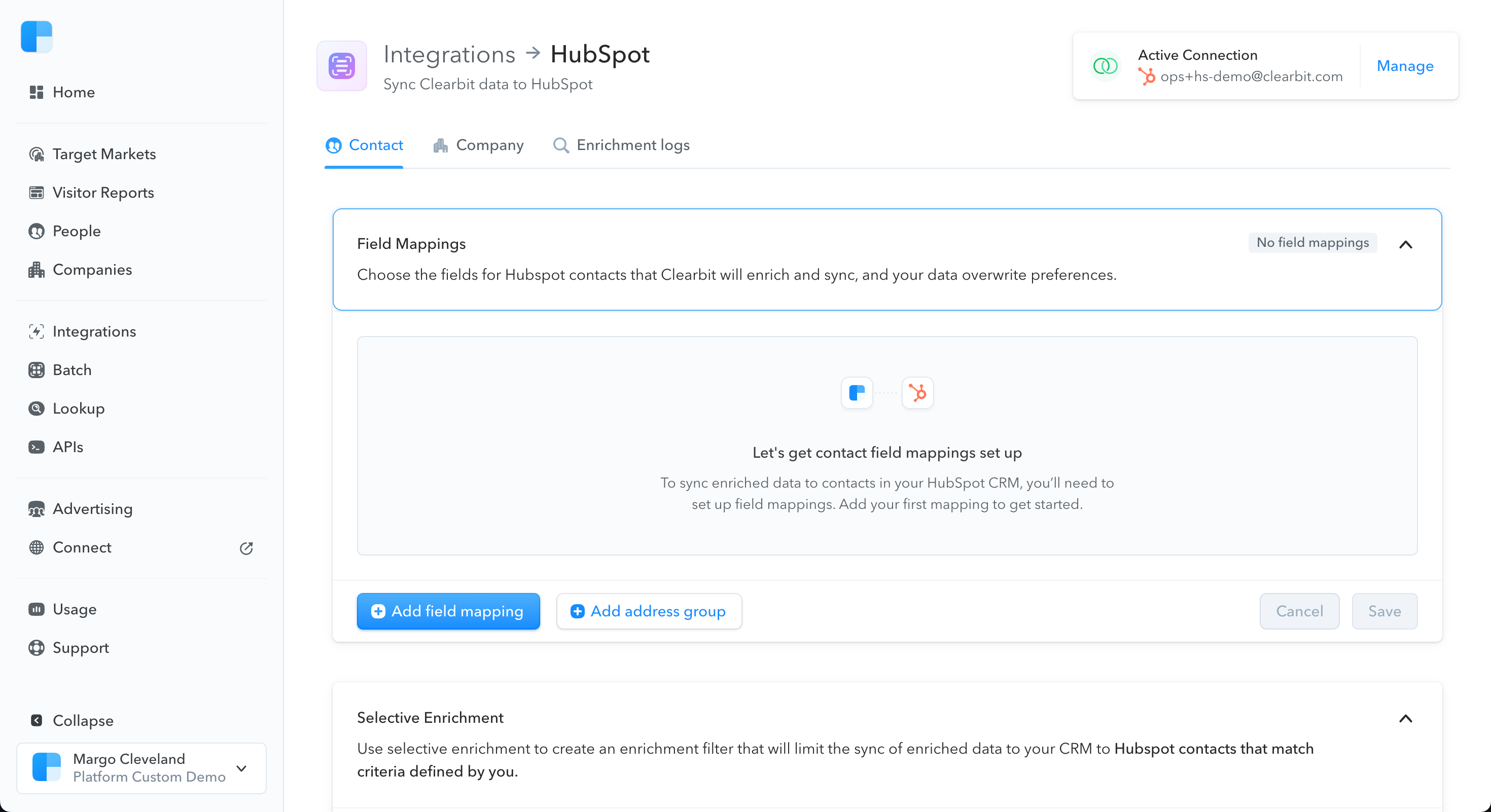 If you do not have any field mappings configured, click the "Add Field Mapping" button to begin setting them up.
Make sure your Clearbit Account is successfully connected to Your Hubspot Account
You can check this in your Clearbit-HubSpot dashboard here. If your Clearbit account is successfully connected to HubSpot, the connection status will be listed as "Active" with the date the connection was established. If it is not connected, follow the on-screen instructions to re-connect or reach out to support@clearbit.com. 
Check if there are any errors in your Enrichment Logs
You can see your enrichment activity dashboard here. Please search for a record to see the subsequent logs. You may see some contacts labeled with "Unable to enrich". This does not always mean there was an error. If you click on the email and see "Status 404 Not Found", it just means the lookup was successful and Clearbit does not have any data for that email. If you are unsure what an error means, please reach out to your CSM or support@clearbit.com.
Review your Selective Enrichment criteria
It's possible your selective enrichment criteria isn't configured correctly. Please review this article to understand best practices. Pay special attention to the 'How does Clearbit handle blank and nil values?' and the 'Platform Specific Notes: HubSpot' sections. 
Multiple Checkbox Values
We recommend using Multiple Checkbox property type for many attributes, such as Clearbit Tags or Industry. When using Multiple Checkboxes, please copy and paste Clearbit's values into your checkboxes. That ensures Clearbit can write successfully to your property. We keep these values consistent so you don't have to worry about updating your values with our new values often. 
Find Clearbit's attribute values here.