Clearbit for HubSpot: Forms Enrichment Troubleshooting Guide
If you are experiencing either of the below issues, follow each of the recommended troubleshooting steps.
Symptoms:
The form does not enrich when an email is filled into the Email field
Form fields do not dynamically appear when Clearbit data is unavailable (assuming you want form shortening)
Make sure each of the form fields are included in your Clearbit-HubSpot field mappings
You can check your field mappings here. If a form field is not in your field mappings, then Clearbit will not be able to enrich it. Here's an example of some completed field mappings.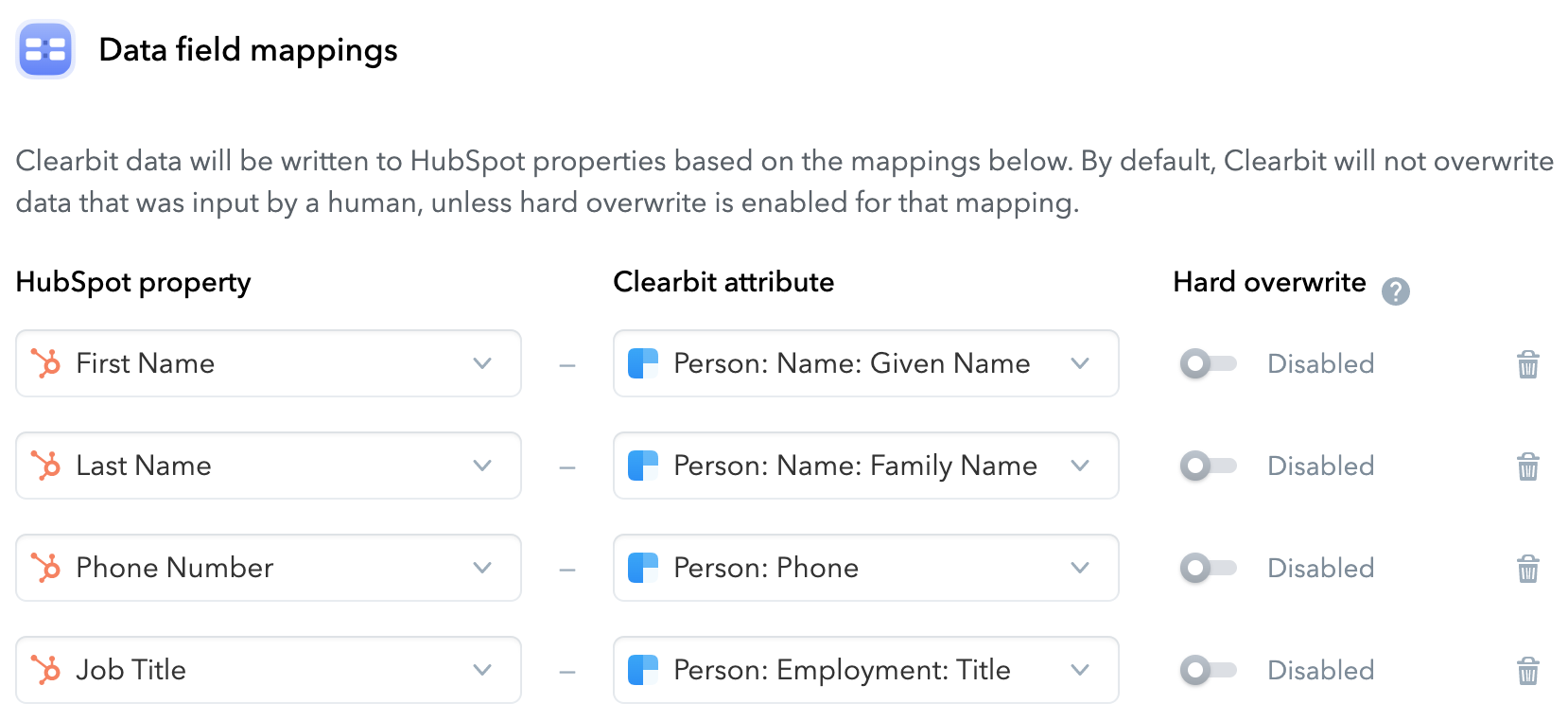 If you do not have any field mappings configured, click the "Add mapping" button to begin setting them up. Add each of your form fields.
Make sure you have Autofill enabled
You can check this here. If Autofill is not enabled, then Clearbit will not enrich the form.
If you want Form Shortening, then make sure it is turned on
You can check this here. If Form Shortening is off, then all form fields will remain visible at all times. Once toggled on, form fields (other than the Email field) will remain hidden, only appearing if Clearbit does not have data available.

Make sure you have jQuery installed on your site
Having jQuery loaded on the page is a prerequisite to getting forms enrichment to work. You may have to check with your own web development team to determine if this is added to your site.
Make sure you have Clearbit's JavaScript snippet added to your site and make sure you have added the onFormReady line to HubSpot's JavaScript snippet
Again, you may have to check with your own web development team to ensure these are loading on the page. You can see what this JavaScript looks like here in steps 2 and 3. Please note that Step 3 is just asking you to add one line to the Hubspot form JavaScript.
Check the JavaScript console for any other errors
You can open Chrome's JavaScript console by clicking View > Developer > Developer Tools. Click the Console tab. There may be content here that is unrelated to your Clearbit-HubSpot form, but if you see forms-related errors, please screenshot them and reach out to support@clearbit.com so we can investigate for you.
Are you implementing the form on HubSpot CMS or a HubSpot Landing Page?
Our engineers are working to build in support for this feature, but Clearbit-HubSpot forms do not currently work 'out of the box' on HubSpot CMS and HubSpot Landing Pages, and an alternative JavaScript snippet is required to make it work. To implement forms this way, you will have to work with your Customer Success Manager to schedule time for our team to help you with this implementation.
Our engineers are working to adjust this integration so an alternative script will not be necessary for these implementations - coming soon!