Sync your HubSpot data with Clearbit
Syncing HubSpot with Clearbit allows you to integrate your MAP data into your Clearbit workflows and build advanced segments that reference your sales and marketing data.
Note that your HubSpot data is synced every 4 hours, so Clearbit may be a few hours behind at any given time.
To get started, head to your HubSpot Connector settings in Clearbit X.
Before connecting your HubSpot account
Decide which user from your HubSpot account will be the one connecting to Clearbit X. Clearbit X will sync all of your HubSpot contacts, companies, deals, and users, so it's important to sign in as someone that at least has permission to read those objects.
Connecting your HubSpot account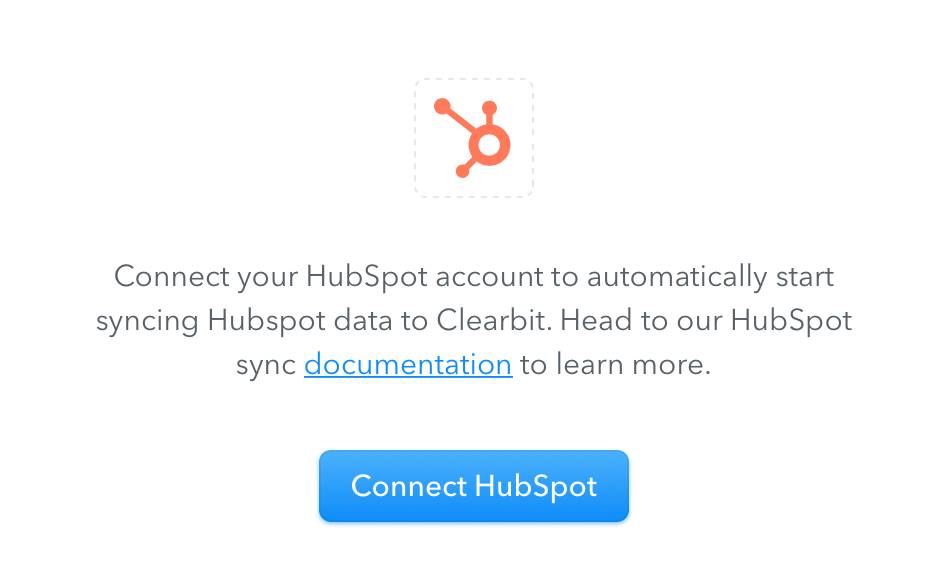 Click the big blue button. Then, sign in to your HubSpot account to authenticate with Clearbit.
Syncing your HubSpot data
After clicking Connect HubSpot, the sync should immediate begin. I can take a while for this to complete depending on the number of records in your HubSpot account. Clearbit will then sync with HubSpot every 4 hours.
A note about security
We take data security very seriously, especially when it comes to your HubSpot data. Head to our security policy for more information.
Once you have done those steps, then you can move onto building your Clearbit X segment.