How to create a Site Visitor Audience
The five steps to activating a site visitor audience are:
1. Create a new audience
Head over to the "Audiences" tab in Clearbit X. Click "Create a new audience" and choose the option "Advertise to website visitors."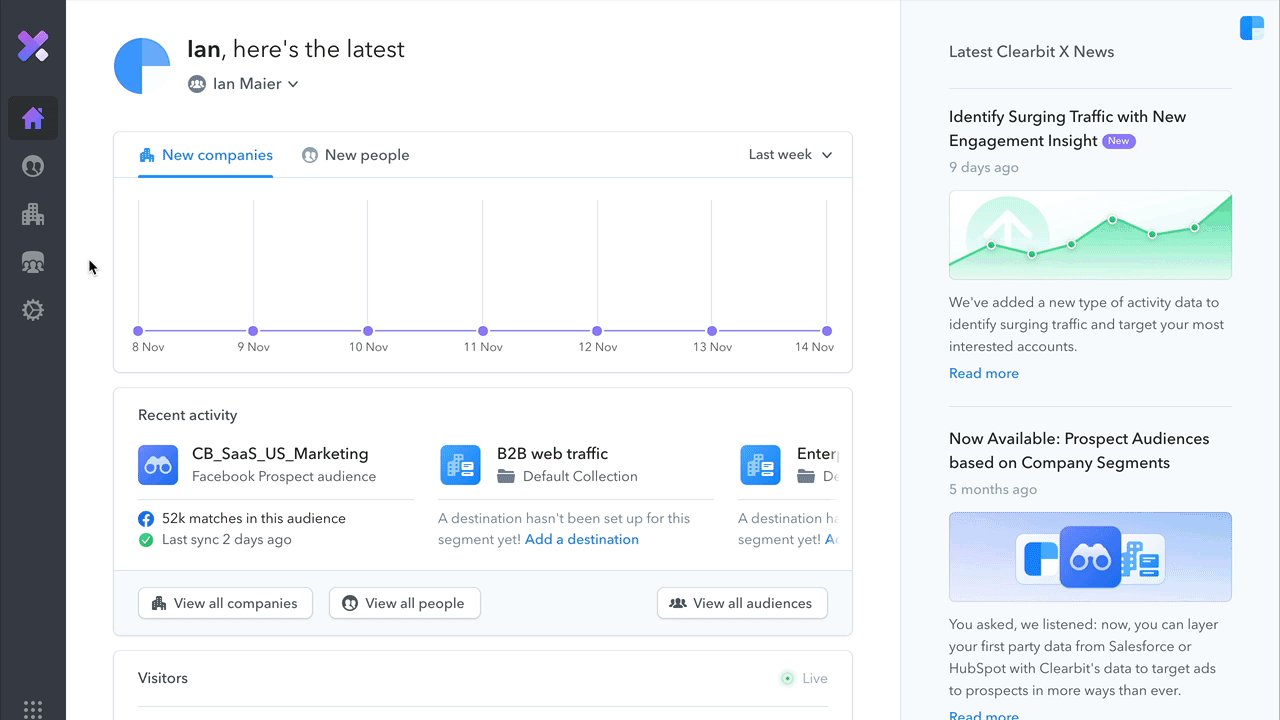 2. Define your Company Segment
Now you're ready to build your audience. Select the "Prospect from an existing Company Segment" option.
You can (A) create a new segment in Clearbit or (B) choose an existing Company Segment.
(A) Create a new Company Segment
To create a brand-new segment, click "Create a Company Segment." Give it a name, then choose the collection (folder) so you can use it for other audiences later.
Now, specify the criteria for the site visitors you'd like to target and click "Next."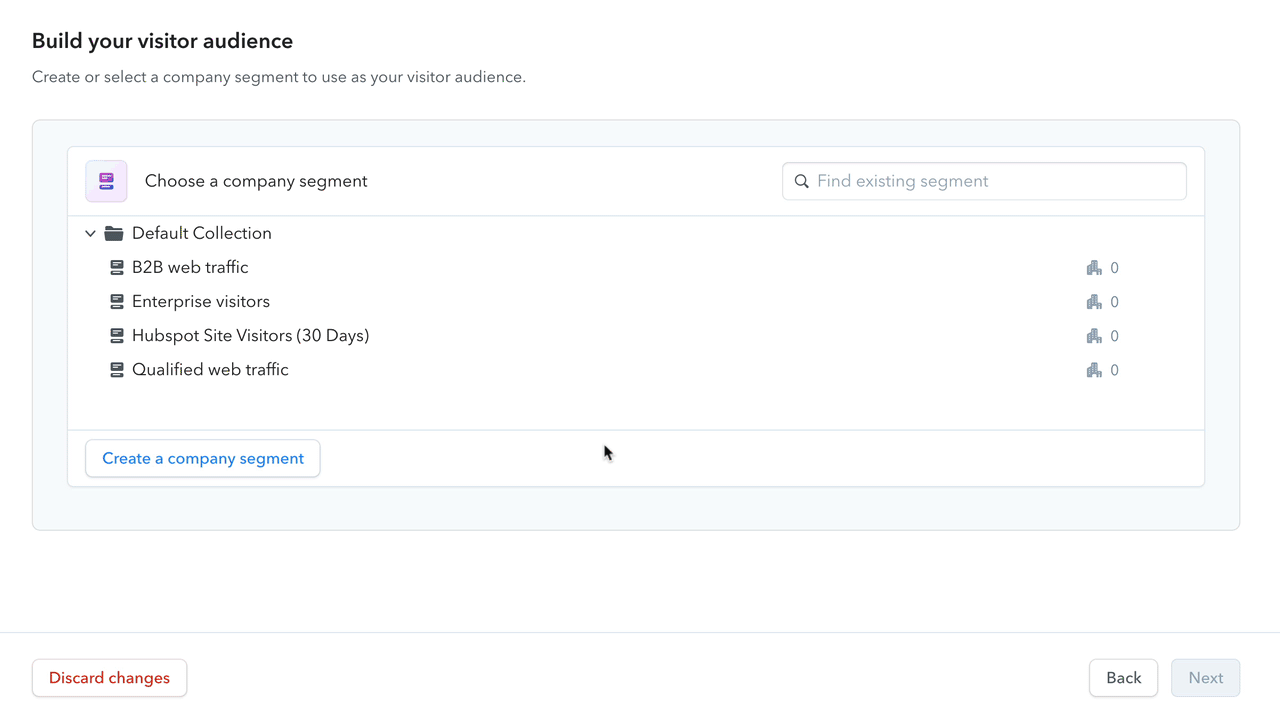 In the following example, we've named our segment "Companies Using HubSpot" and given the segment these criteria:
Technology = HubSpot

Company Tags = B2B SaaS

Country = United States
You can always find inspiration for more parameters at clearbit.com/attributes.
(B) Choose an existing Company Segment
You should see a list of collections (folders). Just scroll through and find the segment you're looking for. To remind yourself of the segment's criteria, click "Show preview."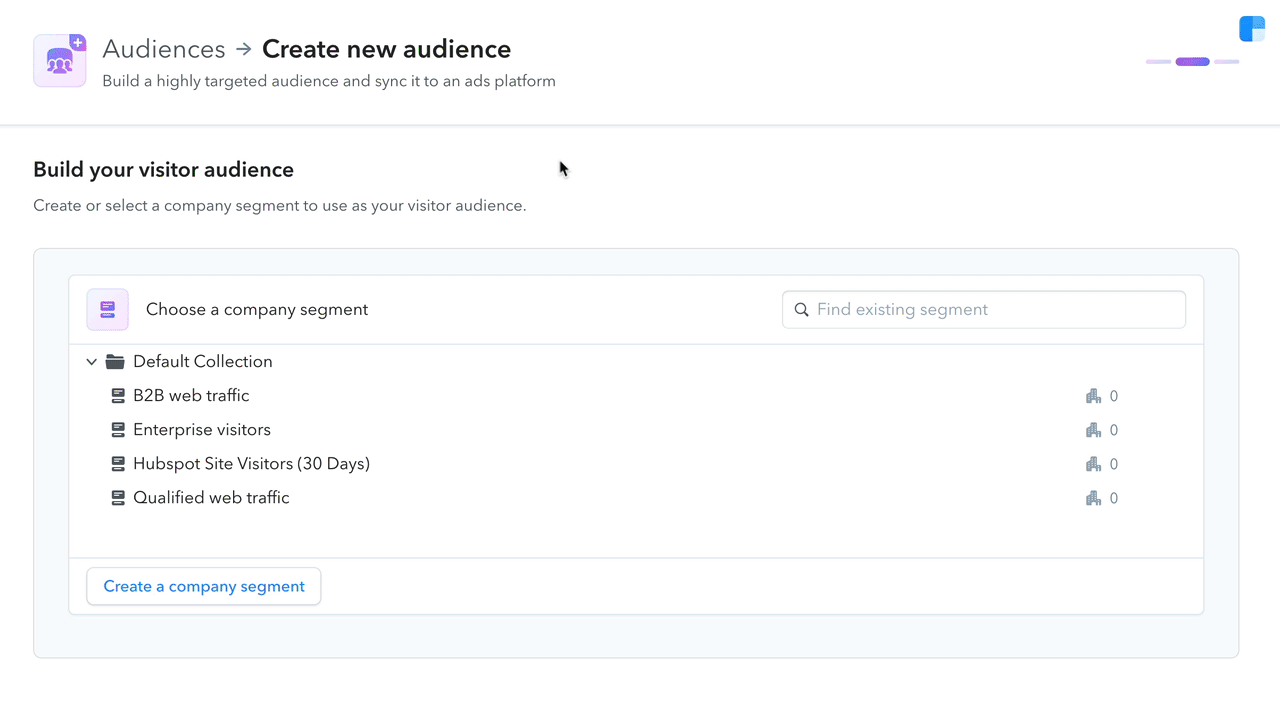 3. Sync your audience
Now that you've defined your criteria, it's time to send the audience to Facebook. Select "Facebook Custom Audience" and choose a Facebook account and Facebook pixel.
You can edit the audience name or keep it as is.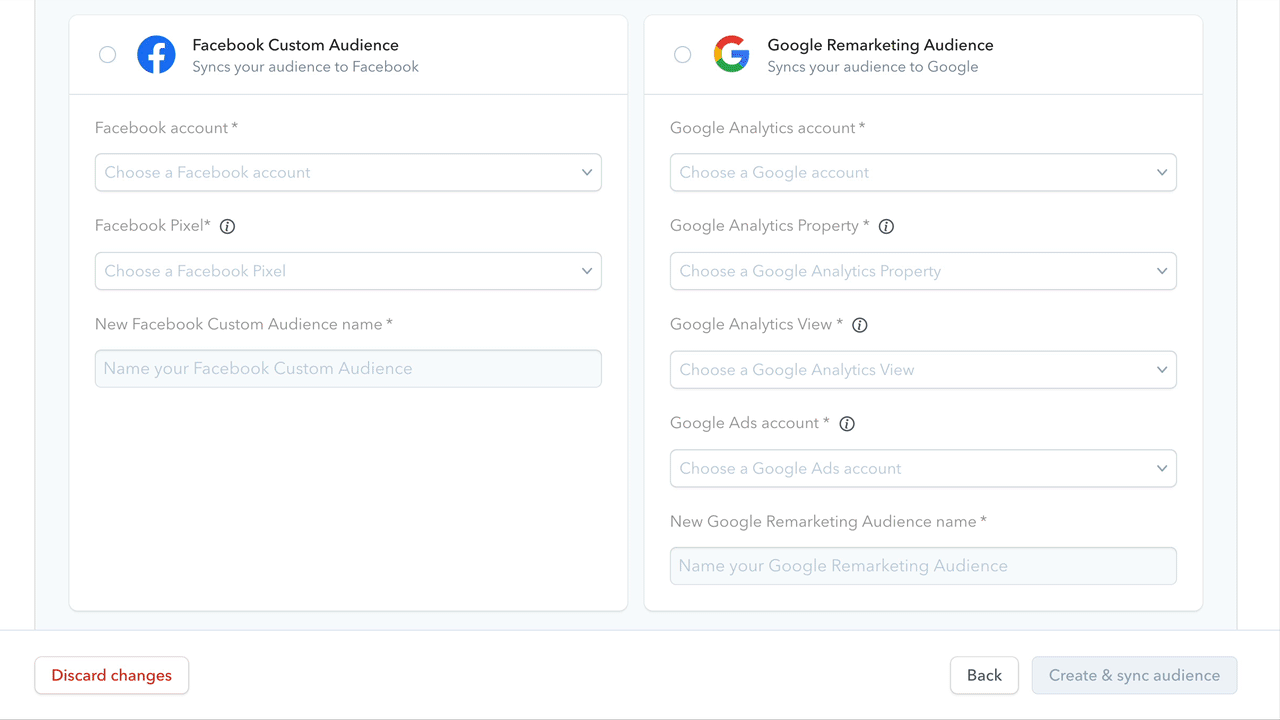 When you hit "Sync," Clearbit will create a Custom Audience right there in your Facebook Ads Manager account.
Where can I find my segment and audience?
You'll be able to see your saved segment in the "Companies" tab in Clearbit Advertising, for reuse later. You've also created a new audience based on the segment, which you can access in the "Audiences" tab in Clearbit—and see its synced Custom Audience in Facebook Ads Manager.
Now that you've activated your site visitor audience, it'll start identifying, tracking, and tagging site visitors. Over the next 30, 60, and 90 days, your audience will grow. Go to the Audiences tab in Clearbit to watch it build over time.
4. Use your audience in a campaign
Go to the Audiences tab in Facebook or Google Ads Manager to see your new audience.
When will my audience be large enough to use?
Site Visitor Audiences populate over time as people land on your website. The longer you wait, the larger the audience will be.
You may have to wait up to 30 days for your audience to grow large enough to use. Note that the more criteria you've specified to narrow down your site visitor audience, the longer it'll take to gather new members who qualify for it.
And that's it. Once your new custom audience is all grown up, you can use it when you create or edit a campaign.