How to create a Contact Audience
The five steps to activating a Contact Audience are:
1. Create a new audience
Head over to the "Audiences" tab in Clearbit X. Hit "Create a new audience" and choose the option "Advertise to contacts."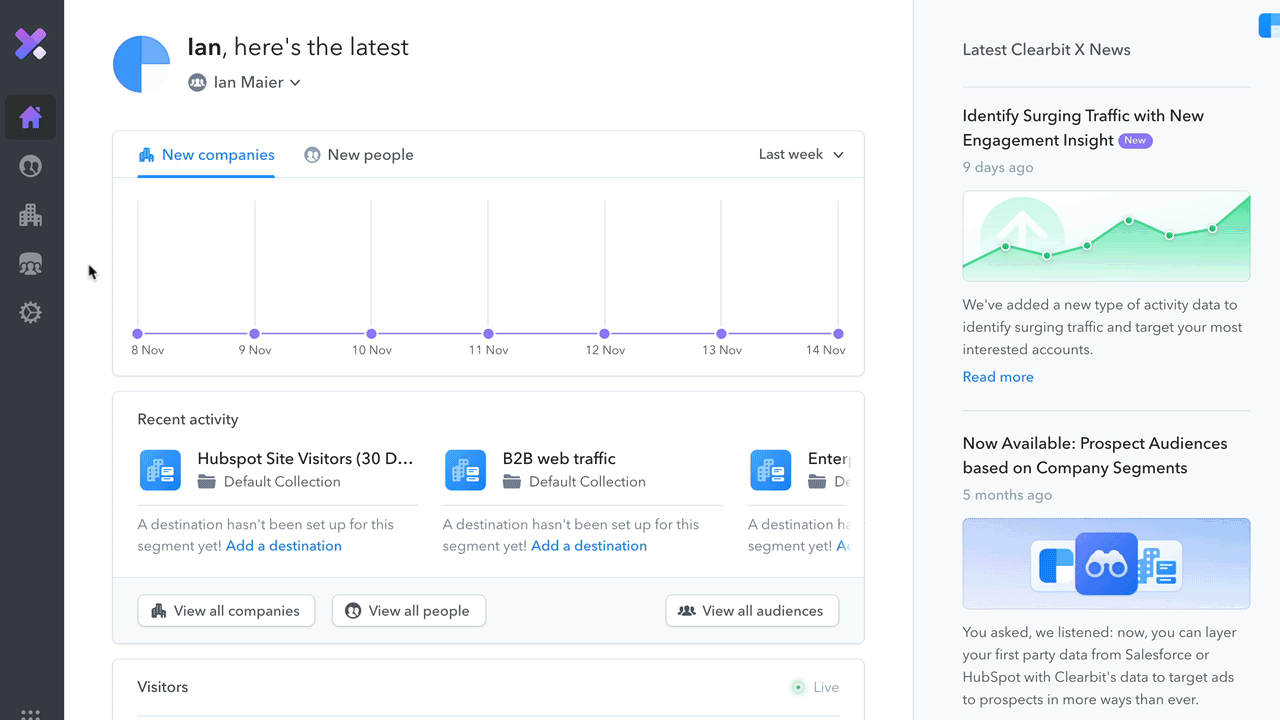 2. Define your Person or Company segment
Now you're ready to build your audience. You can (A) create a new segment in Clearbit or (B) choose an existing segment.
(A) Create a new segment
To create a brand-new segment, you can choose either "Create a Company Segment" or "Create a Person Segment." Here's the difference.
Person Segments

let you define specific people from specific companies you want to target.

Company Segments

let you define specific companies, and Clearbit will include anyone that you have in your database associated with that company.
Once you choose, give the segment a name and choose a collection (folder) so you can reference it for other audiences later.
Next, specify the criteria for the people or companies you want to target. When you create a Contact Audience, you can use three types of criteria:
CRM records (accounts, opportunities, contacts, and leads)
Person or company page views (target based on individuals' activity on your website using Clearbit's

identify call

or on company-level website activity using

clearbit.js

)
Let's imagine we want to create a Person Segment to run a nurture campaign that targets prospects in our CRM who work at companies that use HubSpot. And we don't want to target MQLs or SQLs; just the early-stage folks.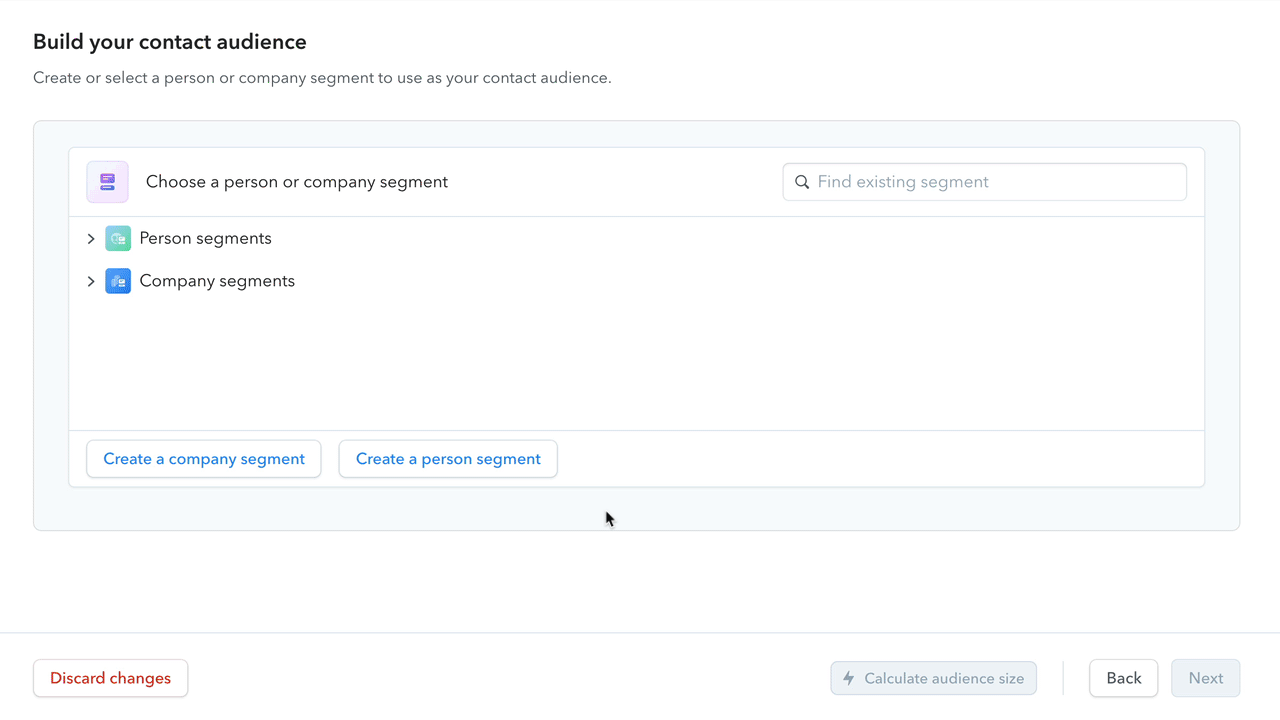 We click "Create a Person Segment," and give it a name: "Marketing Accepted Leads using Hubspot." We specify these criteria:
Salesforce Lead where Lead Exists

Lead Stage = Prospect

Company Tech = HubSpot
Once you specify your criteria, you'll be able to see the estimated audience size. In our example, it's 2,300 people.
Okay, ready for the next step? Click "Next" to sync your audience to Facebook.
(B) Choose an existing segment
If you already have a segment in Clearbit you want to use, you can click on "Person Segments" or "Company Segments" to browse through your choices.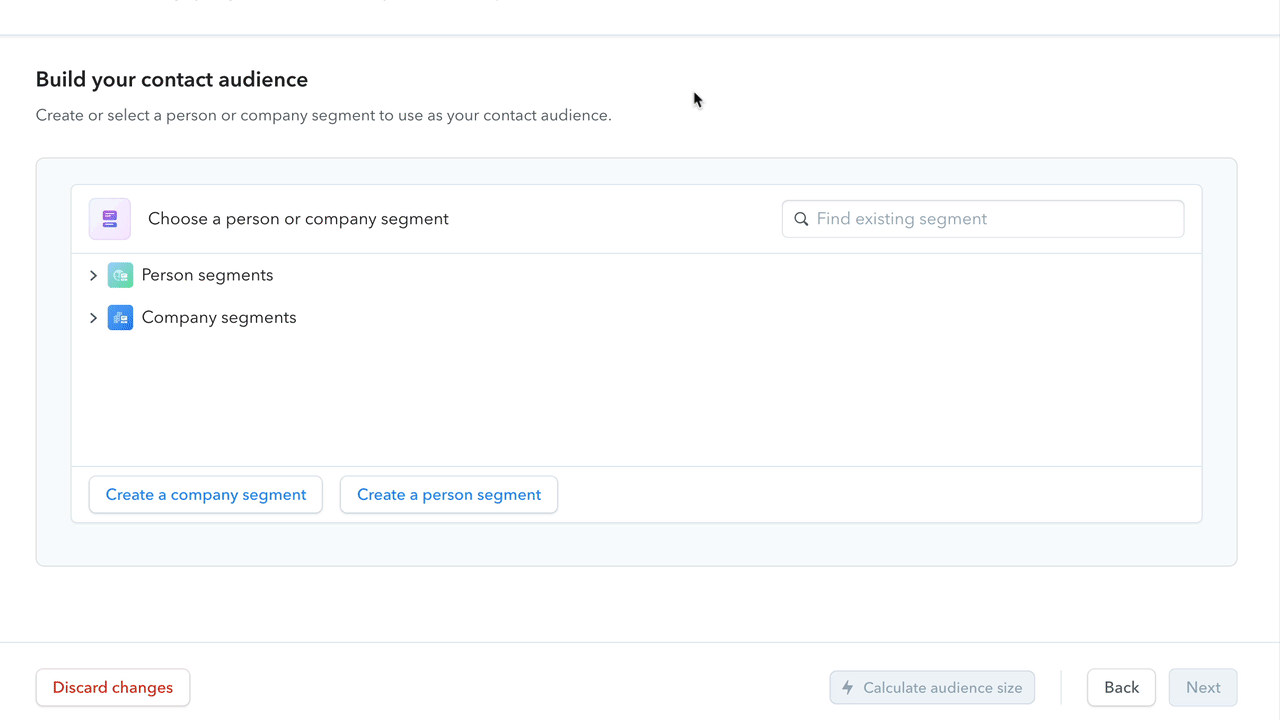 Click "Next" once you have selected the appropriate segment.
3. Sync your audience
Now it's time to sync the audience with the ad platform of your choice.
Pick the ad platform, then choose the account that you want to receive the audience.
You have the option to create a new audience name or to keep the one that's in Clearbit.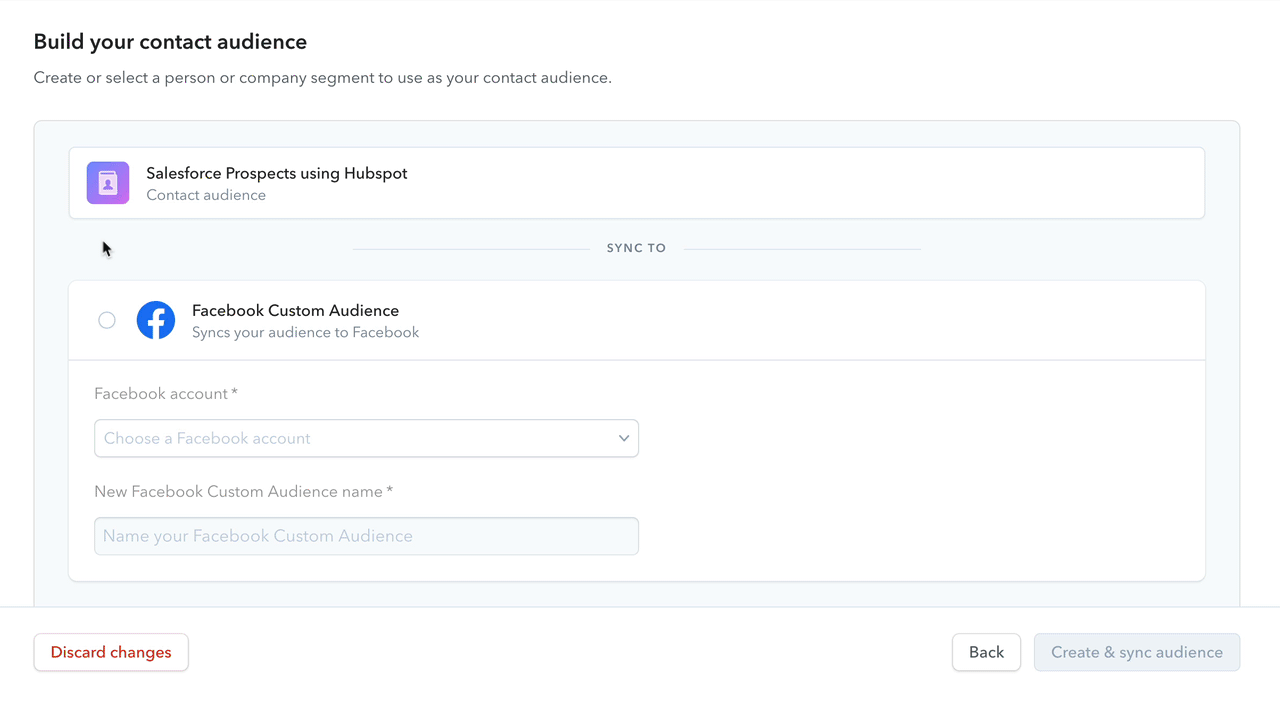 When your destination is defined, and audience named, click "Create & sync audience."
How often does my audience update?
Contact Audiences refresh in Clearbit every 24 hours to reflect daily changes to your segment, adding new audience members and removing old ones from your Facebook Custom Audience.
For example, if a new Salesforce prospect using Hubspot enters the CRM, Clearbit will add that person to the audience within 24 hours.
4. Use your audience in a campaign
Go to the Audiences tab in Facebook or Google Ads Manager to see your new audience and use it in campaigns.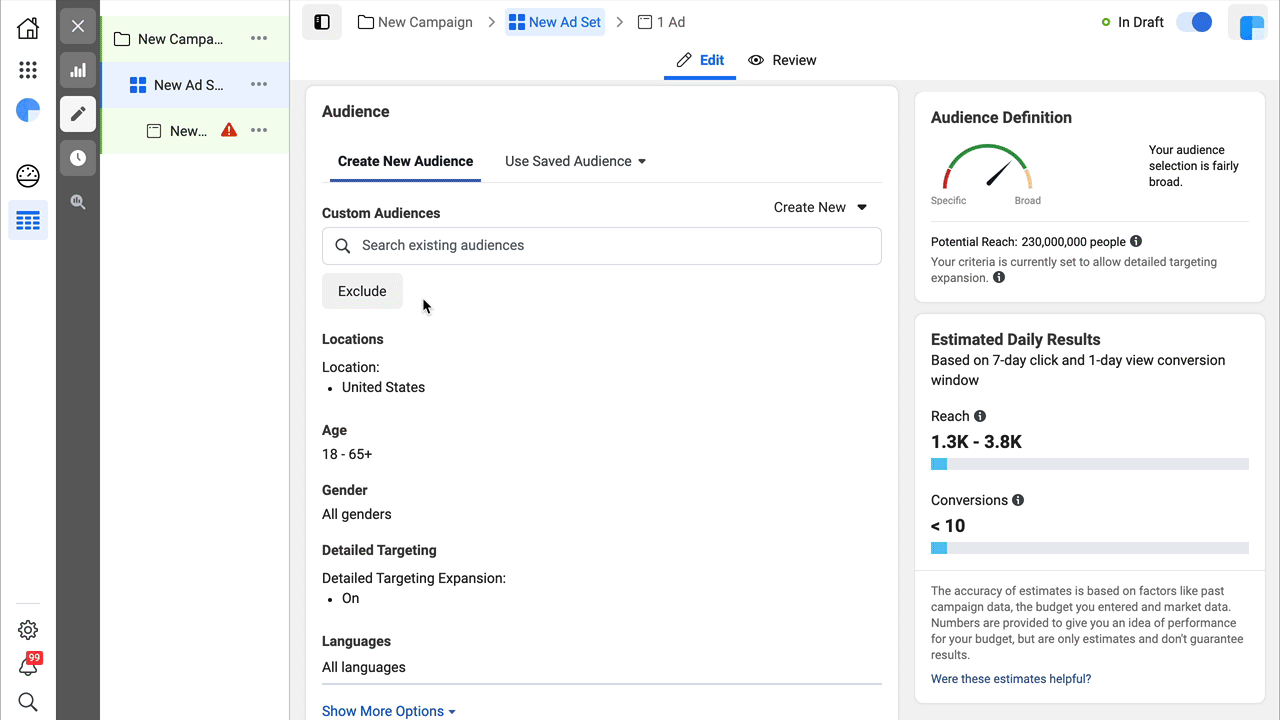 That's it. You're ready to rock 🤘.