Set Up Clearbit Enrichment for HubSpot
Last Updated: August 24, 2022
For pricing information, please fill out the demo-request form on our pricing page to get in touch with a sales representative.
Clearbit Enrichment with HubSpot ensures every new lead coming into HubSpot has Clearbit data appended. Attributes are now updated in real-time when values change, and customizable field mapping lets you write Clearbit data easily to standard HubSpot fields or custom fields.
Skip Ahead to:
Authenticate your HubSpot Account on the Clearbit Platform
Log into the Clearbit platform.
Click on the Connections tab.
Click the Connect button next to the HubSpot box.
Click the Connect HubSpot button.
Select the account you wish to connect and click Choose Account.
How To Set Up Clearbit Enrichment for HubSpot
Navigate to the Clearbit Platform, click the Data Sync tab, and click Configure.
Click the Get started button to sign into your HubSpot account and authorize with Clearbit. OAuthing into HubSpot should take just a few seconds.
Set Up Field Mappings
We'll need to know which HubSpot properties you'd like specific Clearbit data attribute to write to. We offer a number of popular default field mappings (e.g. Contact: City - Person: City) but you may choose to edit these before submitting. 
HubSpot Forms and Enrichment now support all field types, and we validate field types upfront so that users do not accidentally save mappings that are incompatible. Our integration supports all field types, but we validate field types upfront so that users do not accidentally save mappings that are incompatible. For example, if the HubSpot field is a number, the Clearbit field type must also be a number.

📝 Please note: By default, Clearbit will only overwrite fields that are blank or that Clearbit was the last to write to. This ensures and data you or your customers add won't be overwritten. You may change this setting in the field overwrite column by flipping the toggle to ON - now Clearbit will ALWAYS overwrite that particular field. Keep in mind you can change these settings on the enrichment page later.
Initiate a Backfill
Enriching all contacts in your HubSpot database according to the field mappings you just set. You may skip this step and initiate a backfill from the enrichment page at another time. You may also cancel a backfill from the same page.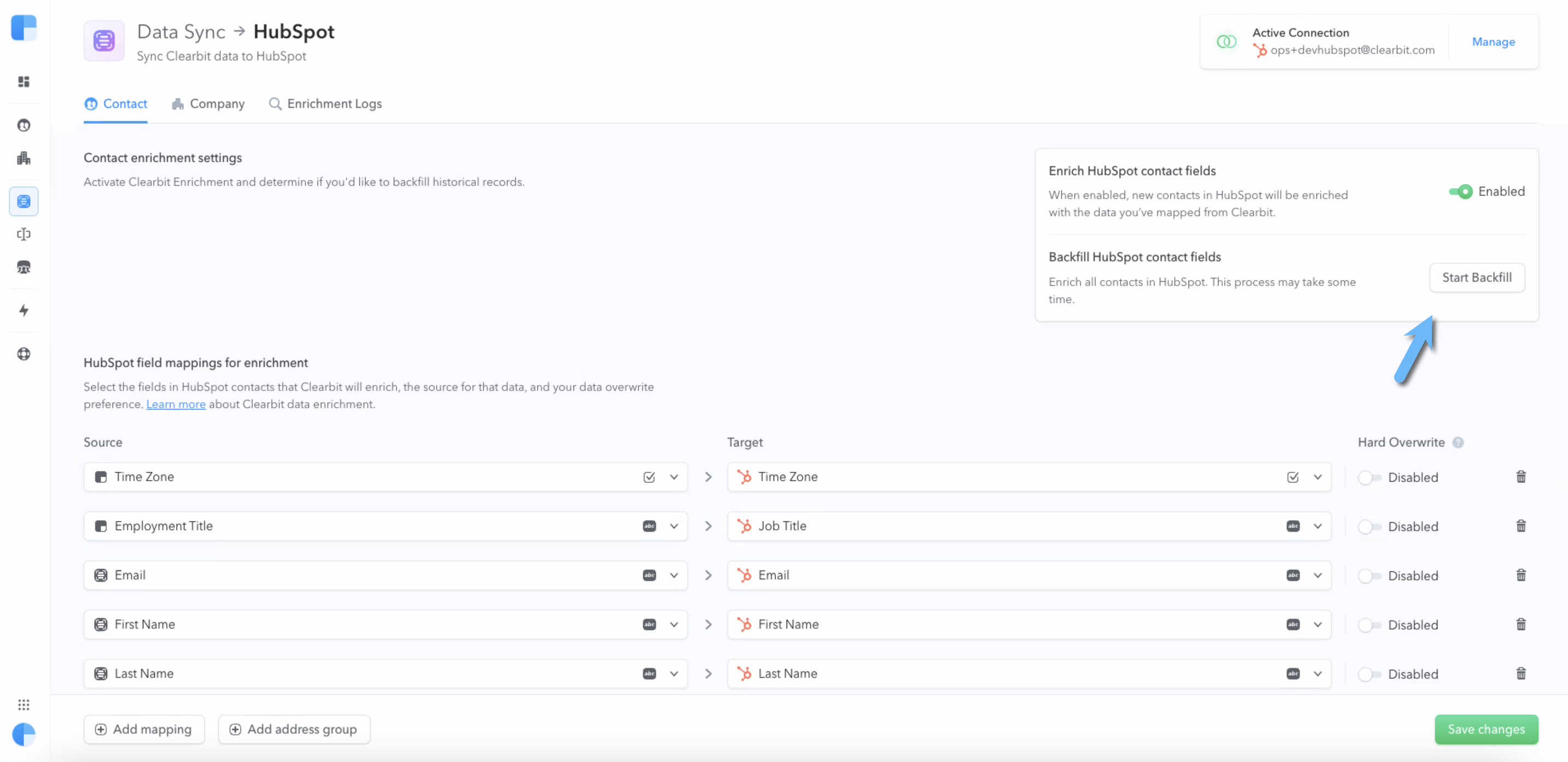 You can return to this page if you need to change any enrichment settings, initiate a backfill or monitor enrichments.