How to create a Facebook Conversion
Facebook conversions use the Conversion API to send events server-side, bypassing ad blockers and operating system restrictions like the one released by Apple in their iOS 14.5 privacy update.
Create a Facebook Conversion
Before configuring your Facebook Conversion, you need to define your Conversion criteria using a Person Segment.
Every time a person enters (or re-enters) that segment, Clearbit will send a conversion event to Facebook (e.g. when a lead becomes an MQL).
Select the Facebook Conversion destination
Once you have selected or created the right Person Segment...
Navigate to the Destinations tab, located in the top-middle of the page.
Create a Facebook Conversion or Google Conversion event.
Configure the Facebook Conversion
To configure the Facebook Conversion:
Select the Facebook account you would like to send the conversion to
Select the Facebook pixel that will process the conversion event
Select a Standard Event type, or create a custom event
Define the conversion value and currency
Once you have configured your conversion, click Save changes. And... that's it!
How quickly can I see new Conversions? Clearbit batches conversion events every 24 hours. Those events will be available to audit from the Facebook Event Manager page. However, Facebook may delay conversion reporting for up to 3 days. As Facebook has warned, Apple's iOS 14.5 updates will cause up to 3 day delays between the time conversions happen and are reported on in Facebook.
Use Value Optimization bidding
Value Optimization allows B2B advertisers to dynamically bid more on high-value leads, and less on low value ones.
Value Optimization changes the way that Facebook manages bids, using machine learning to predict how much return on ad spend (ROAS) a person may generate.
Facebook then uses that prediction to bid for your highest value leads. By bidding more for people who are likely to convert and close at higher values, you can ensure you are maximizing the predicted ROAS for your campaigns.
For example, if you know that Enterprise leads convert into higher value customers, you may assign a higher predicted lead value to your enterprise Conversion events, and lower one for SMB leads.
Use the Purchase Standard Event
Value Optimization is only currently available for the Purchase conversion event. When configuring your Facebook conversion, select the Purchase standard event from the dropdown.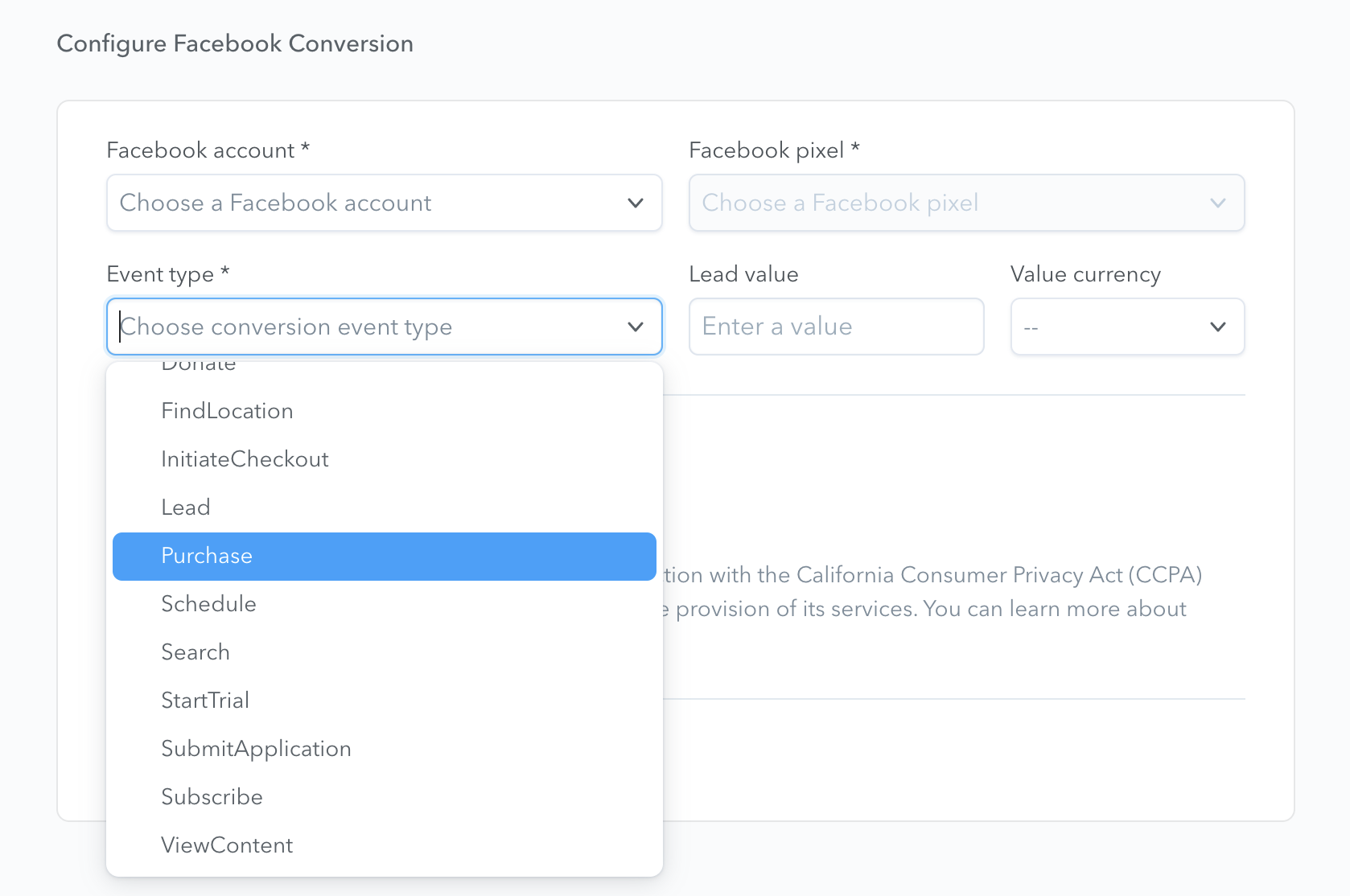 Read More: What are Facebook Standard Events?
Check your Eligibility
To use the feature, you must meet Facebook's eligibility requirements:
Your campaign sends and optimizes for the Purchase Standard Event.
Has at least 2 distinct values over the last 7 days.
Has generated at least 30 attributed click-through purchases in the last 7 days.
Has

web events configured

in Events Manager, with value optimization turned on for the events you want to optimize for values.