Sync Clearbit data to Google Analytics 4 via Google Tag Manager
💡 Please Note: It is a best practice to use the Google Analytics 4 connector instead of Google Tag Manager. Find the instructions here. 
Last Updated: April 24, 2023
For pricing information, please fill out the demo-request form on our pricing page to get in touch with a sales representative.
Container Template: 📎 clearbit-gtm-ga4-container-import-v1.json
Clearbit's reverse IP technology reveals the companies visiting your website and provides you with rich firmographic and technographic data about them.
By integrating Clearbit data into Google Analytics 4, you can gain deeper insights into what different market segments are doing on your website and optimize your marketing efforts accordingly.
Clearbit + Google Analytics 4 allows you to answer questions like:
Which channels are driving the most visitors who fit my ideal customer profile?
Which pages are receiving the most engagement from enterprise vs SMB companies?
Does my landing page convert differently by industry?
In other words, Clearbit enables you to ask and answer better questions by combining what your visitors are doing with insight into where your visitors work.
Should I integrate with Google Analytics 4 via Google Tag Manager or Clearbit's direct integration? 
Clearbit does offer a direct integration with Google Analytics 4, which is designed to be quick and easy to set up. However, sending Clearbit data through Google Tag Manager instead has two benefits that may be important to your organization:
You can control if and when data is sent to Google Analytics 4. For example, you can use Google Tag Manager's consent configuration alongside a supported Consent Management Platform to prevent tags from loading or data from transmitting when a user changes their tracking preferences. While Google Analytics 4 does have a number of data controls that you can use to ensure compliance with local and international data policies, Google Tag Manager offers a number of features that allow you to fully customize those controls to your preferences.
You can centralize your data sync configurations in one place

. If you are using Clearbit to sync visitor data to other analytics, personalization, or advertising platforms you may want to centralize all of those configurations in one place. In these cases, Google Tag Manager is an excellent option and may make managing your data easier long-term.
In this article, we will guide you through the steps of integrating Clearbit data into Google Analytics 4 using Google Tag Manager.
Set up Google Analytics 4 data sync via Google Tag Manager
Install the Clearbit Tag and Google Analytics 4 Tag
Before you begin, make sure that the Clearbit Tag and Google Analytics 4 Tag are installed on your website. The Clearbit Tag is responsible for revealing companies visiting your website, and pushing that information into the Google Tag Manager data layer.
The Google Analytics 4 Tag should be configured to track page view data from visitors on your website. This tag should be configured separately from the one that we create to map Clearbit company data to Google Analytics 4 as user properties.
Enable the Google Tag Manager Data Sync in Clearbit
To start, navigate Integrations > Google Tag Manager data sync.
Enable the data sync.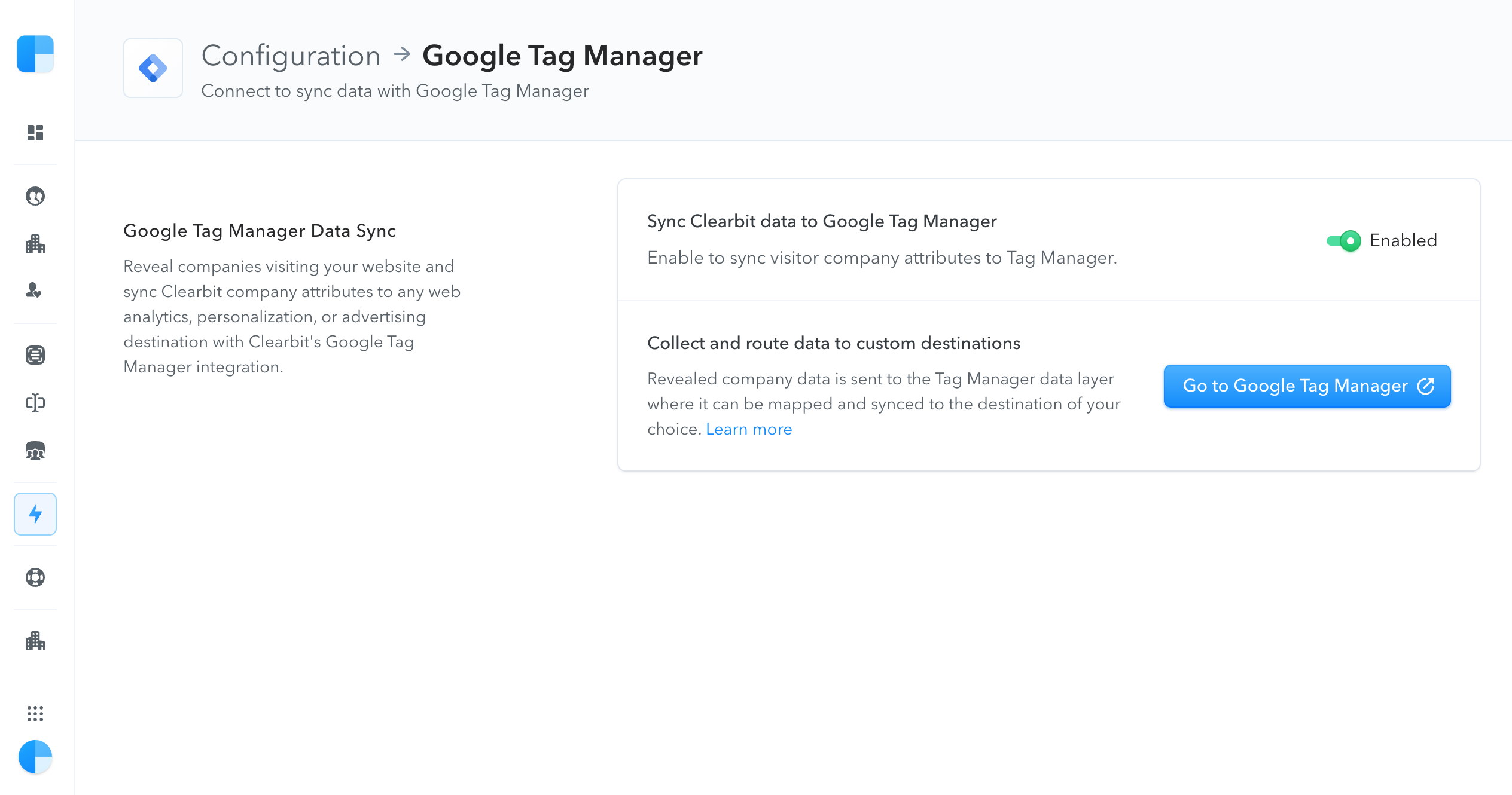 Once enabled, the data sync will automatically send Clearbit data about visitors to the Google Tag Manager data layer where that data can be picked up and sent to other destinations, including Google Analytics 4.
Import the Container Template in your Google Tag Manager Workspace
Download the container template attached below, and upload the container to your workspace. This will save a few hours of configuration, and ensure there are no mistakes during setup.
📎 clearbit-gtm-ga4-container-import-v1.json
To import the container file...
Log into your Google Tag Manager account
Navigate to Admin and select Import Container.

Choose the clearbit-gtm-ga4-container-import-v1.json file that you downloaded from this help center article and select the workspace where you would like to import the new tag configuration.

Finally, choose the merge options to avoid overwriting your current settings and click Confirm.
Once the import is complete, you will see that a tag, a trigger, and various variables have been added to your container workspace.
Add Your Measurement ID to the new Google Analytics 4 Tag
To complete the setup, add your Google Analytics 4 measurement ID to the new tag that was imported in place of the placeholder text.
Navigate to Tags in your Google Tag Manager workspace, and open the Google Analytics 4 - Clearbit Attributes tag.
Replace the G-XXXXXXXXXX value in the Measurement ID field with your preferred Google Analytics 4 measurement ID.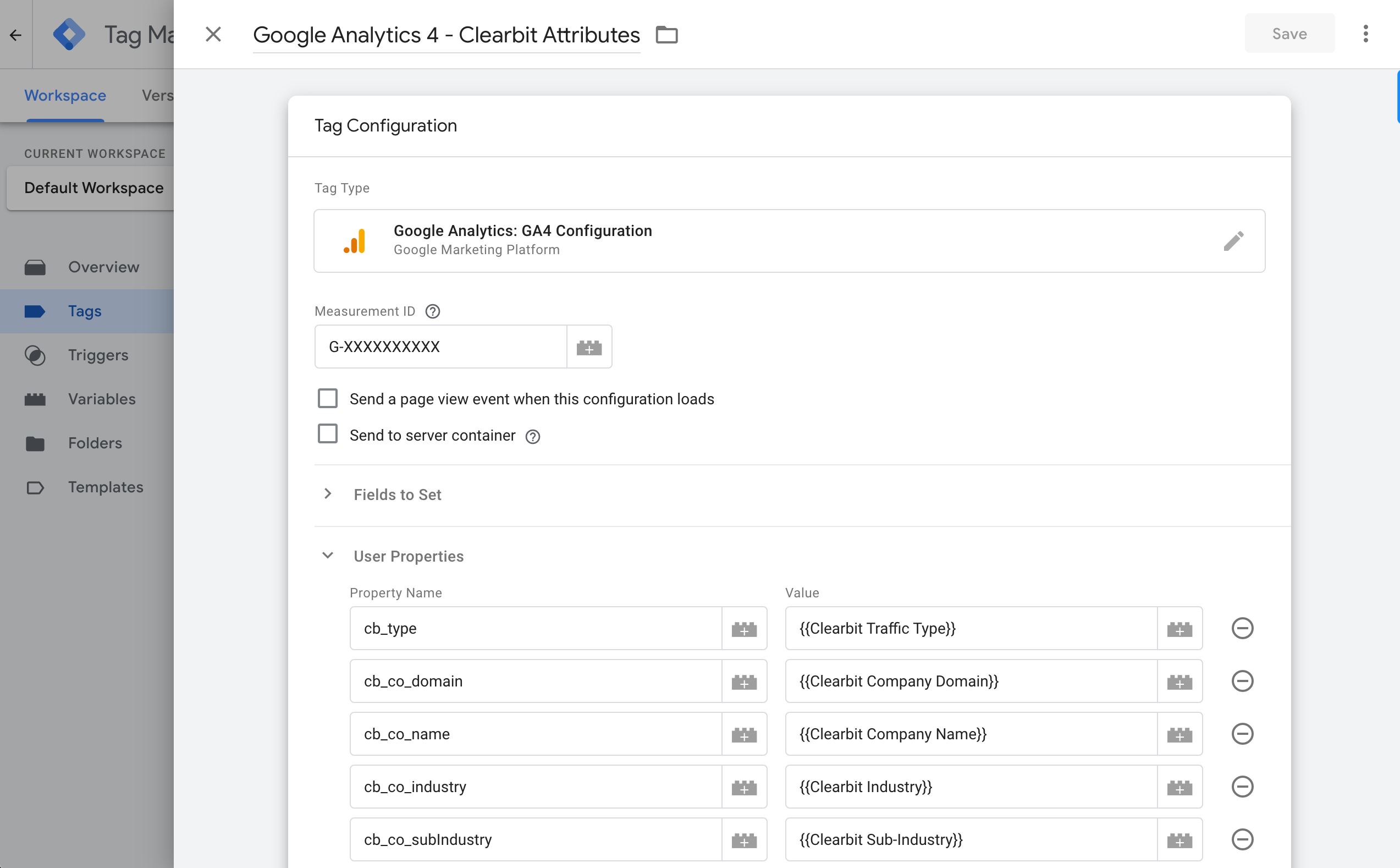 If you would like to remove or add any additional user properties to the Google Analytics 4 configuration tag, you can add or remove rows from the User Properties section of the tag.
Preview & publish your Google Tag Manager container
Finally, preview your setup to confirm the tags are firing properly, and publish!
To preview the container, click on the Preview button in the top right corner of the Google Tag Manager interface. This will launch the Preview mode where you can test the implementation and make sure the new tag is firing and the user properties are being sent.

Once you are satisfied with the implementation, click on the Submit button in the top right corner of the Google Tag Manager interface and select Publish to push the updates live.

Now, when a user visits your website, and Clearbit identifies the company they work for, detailed information about that company will be sent through Google Tag Manager to Google Analytics 4!
Note: Google Analytics 4 may take up to 48 hours to process the data and make it available in the user properties selection dropdown, and for values to show up in reports.
Create User-Scoped Custom Dimensions in Google Analytics 4
Now that the Clearbit data has been successfully loaded into the data layer and picked up by Google Tag Manager, we need to map the variables into Google Analytics 4 as Custom Dimensions. This will allow you to use the Clearbit data being received for reporting and analysis.
To configure custom dimensions for Clearbit data in Google Analytics 4 (GA4), navigate to Admin and select the appropriate Google Analytics 4 property.

Navigate to Custom definitions > Custom dimensions and click Create custom dimensions.


For each dimension you create, choose a Dimension name, selecting User in the Scope field, and select the appropriate User property value (see reference below). If the user properties are not immediately available for selection, it may take a few hours for that information to be available. You can also manually input the user property values by referencing the values assigned in the User Properties mappings in Google Tag Manager.

Custom definition limits & caveats: Google Analytics 4 allows customers to enable up to 25 user scoped custom dimensions. Analytics 360 customers can enable up to 100 custom dimensions. Google also limits the number of rows returned for high-cardinality dimensions. In order to avoid exceeding your quota, we recommend avoiding attributes with high-cardinality and only mapping attributes that you find most valuable in your reporting and analysis.
Verify custom dimensions appear in Realtime Reports
To check if the data is being received in real-time, navigate to Realtime Report in your Google Analytics 4 property. Find the Users by User Property card and look for the user-scoped custom dimensions that you created.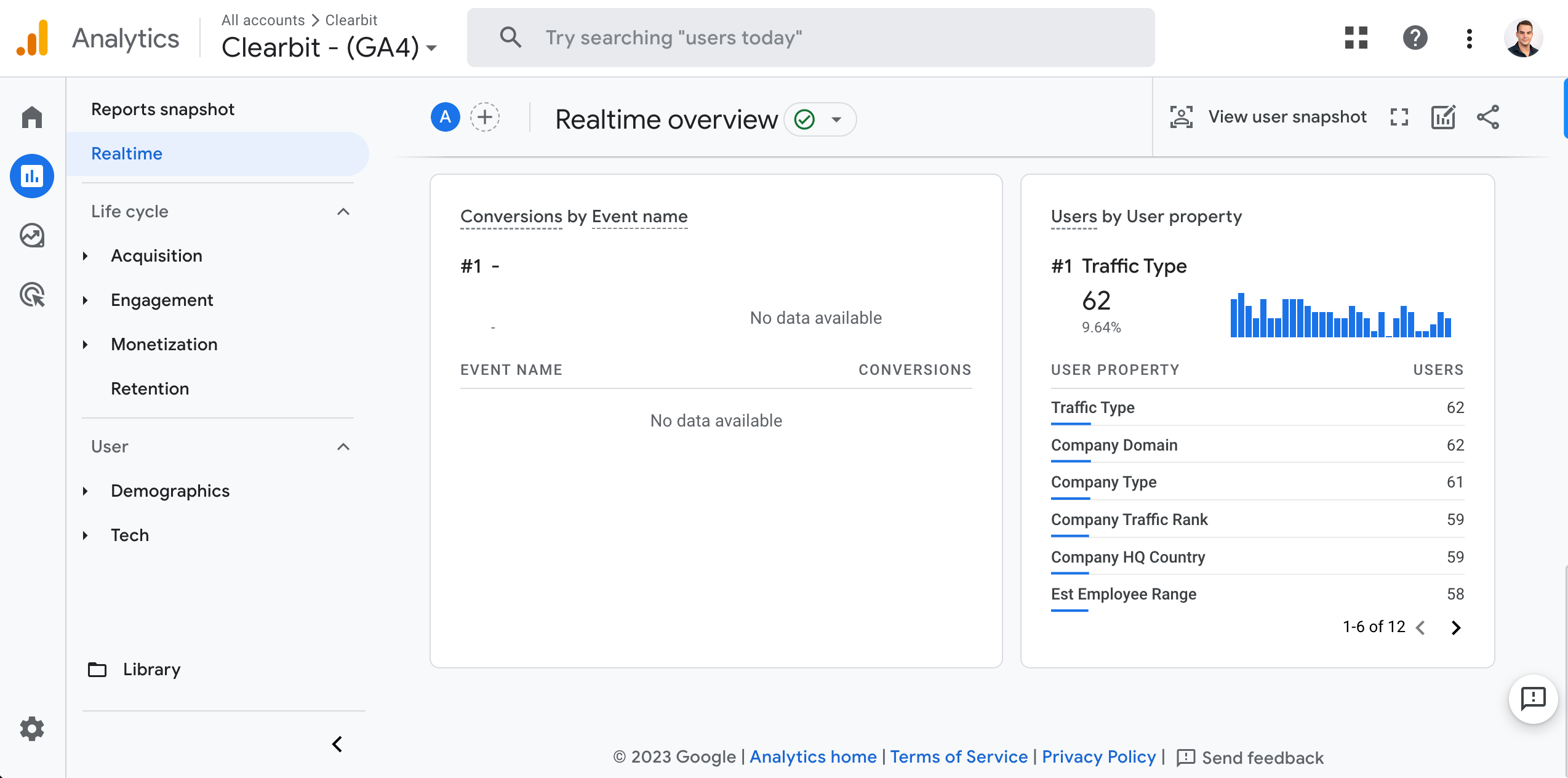 Create reports using Clearbit data
You can now create reports in GA4 that include the Clearbit data!
In the Explorer report builder, import the custom dimensions and metrics you want to include in the report and then drag them into the appropriate dimension and value columns.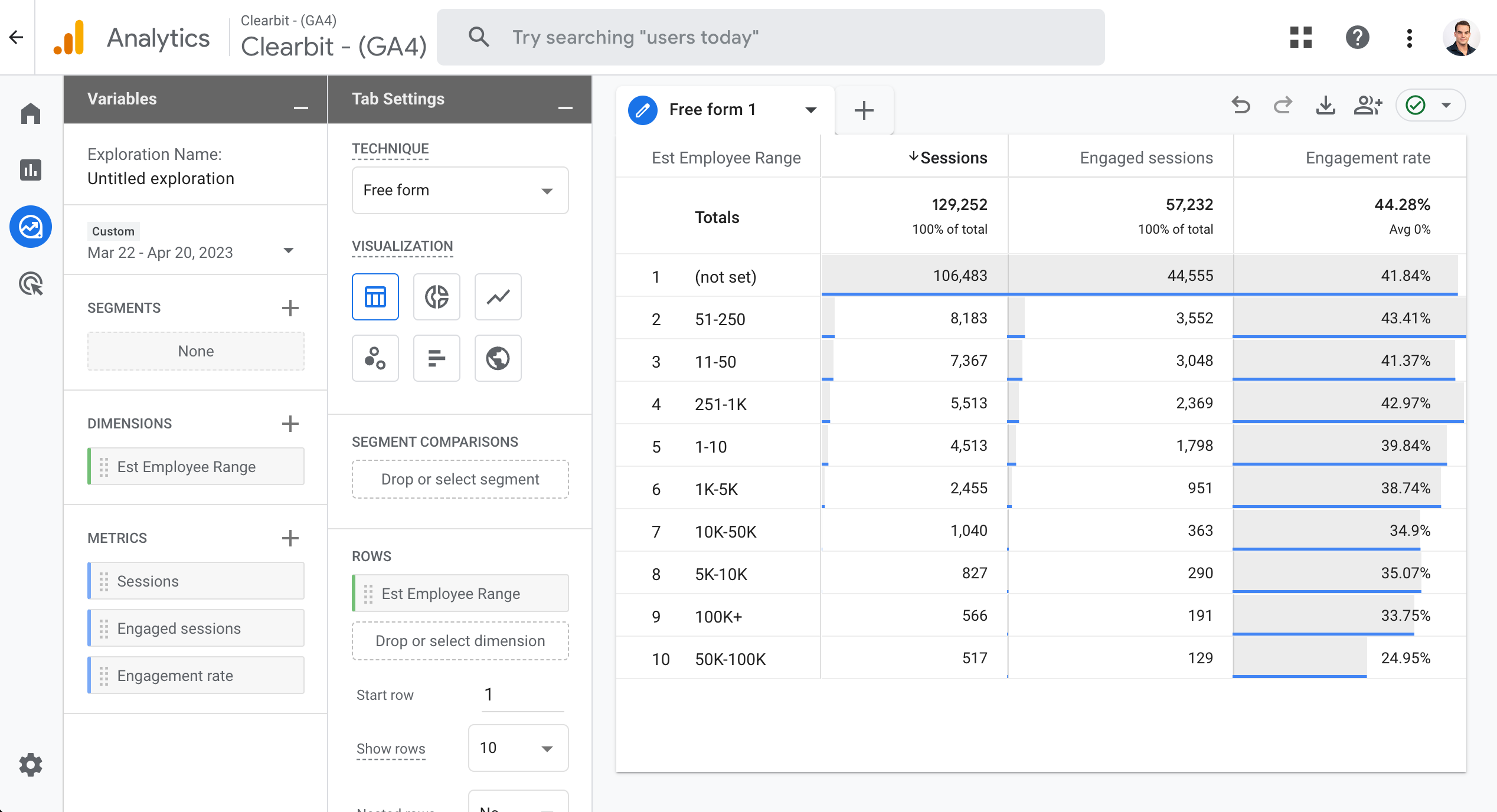 You can also create segments based on the Clearbit data for more comparison analysis.
With this information, you can optimize your marketing efforts and focus on acquiring, engaging, and converting companies in your ideal customer profile or specific market segments.