Enrichment for Segment
Connect Clearbit directly to Segment (a simplified customer data tracking API with pre-built integrations for hundreds of tools) to automatically add Enrichment data into Segment for all identified users! This integration is similar to the Clearbit Reveal one, in that you can simply connect Clearbit into Segment without adding any additional code to your site!
With a few clicks you can automatically add person & company data for all identified users into Segment and fan that data out to all of the 180+ integrations


Using this integration, you could:
Sync all your users and events to Redshift

, then automatically enrich that data with Clearbit. Once that data's in Redshift it's simple to query the data however you'd like, building customer segmentation reports or better understand the products your customers use with Clearbit's

tech

tags.

Pipe all your users to

Customer.io

, and then build segments based on Clearbit data. For example, you could use Clearbit's

role property

to send a different drip campaign to customers in sales than those in software engineering.

Send data to an analytics provider like

Mixpanel

, and you'll immediately have fully fleshed out customer profiles available for even more detailed analysis. The sky's the limit – use Clearbit's data to track conversion rates by industry, for example.
You can find some additional awesome ideas here.
Getting access

In order to start using Enrichment in Segment, simply follow the steps below to connect your Clearbit Enrichment subscription. If you don't currently have a Clearbit Enrichment subscription visit https://clearbit.com/enrichment to sign up today. Reach out to Clearbit Success (success@clearbit.com) to ensure you have the right access!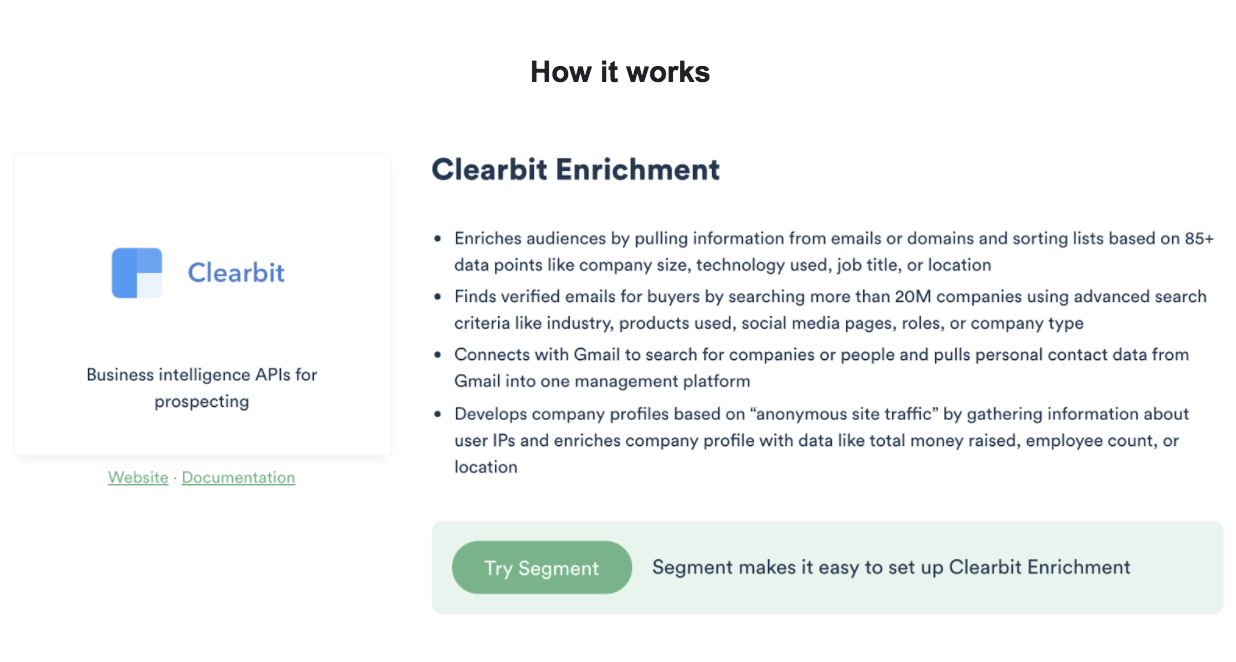 How It Works
The Clearbit integration listens to the Segment identify event. We'll then take the email associated with the identify event, enrich it, and issue another identify event. Once that email address has been enriched Clearbit data will be available to any of the integrations you've configured in your Segment source. We will only re-trigger an identify event once every 30 days for a particular email.
Setting up Clearbit's Segment integration is straightforward process, requiring just a few steps – no coding required. Note, if you have already added the integration then skip steps 1 & 2.
1. Find the Clearbit integration in your Segment account
The Clearbit integration can be found on the Integrations page of your Segment Source in your Segment account (or you can add it to your Segment account from the integration's landing page).
2. Add your Clearbit API key
Enter  your Clearbit API key into the Settings page of the Clearbit Integration in Segment, then click Save Changes and Enable Integration.
3. Verify that the integration is working correctly
To verify that the integration has been set up correctly, check the Debugger section of your Segment Source. Assuming everything has been set up correctly, you should start seeing Clearbit data populate in the Identify events – click on the specific event you're interested in to see Clearbit traits. These traits will now be available to other Segment integrations in your account. Notice that all Clearbit traits are prefixed with clearbit_ to ensure they don't conflict with existing traits.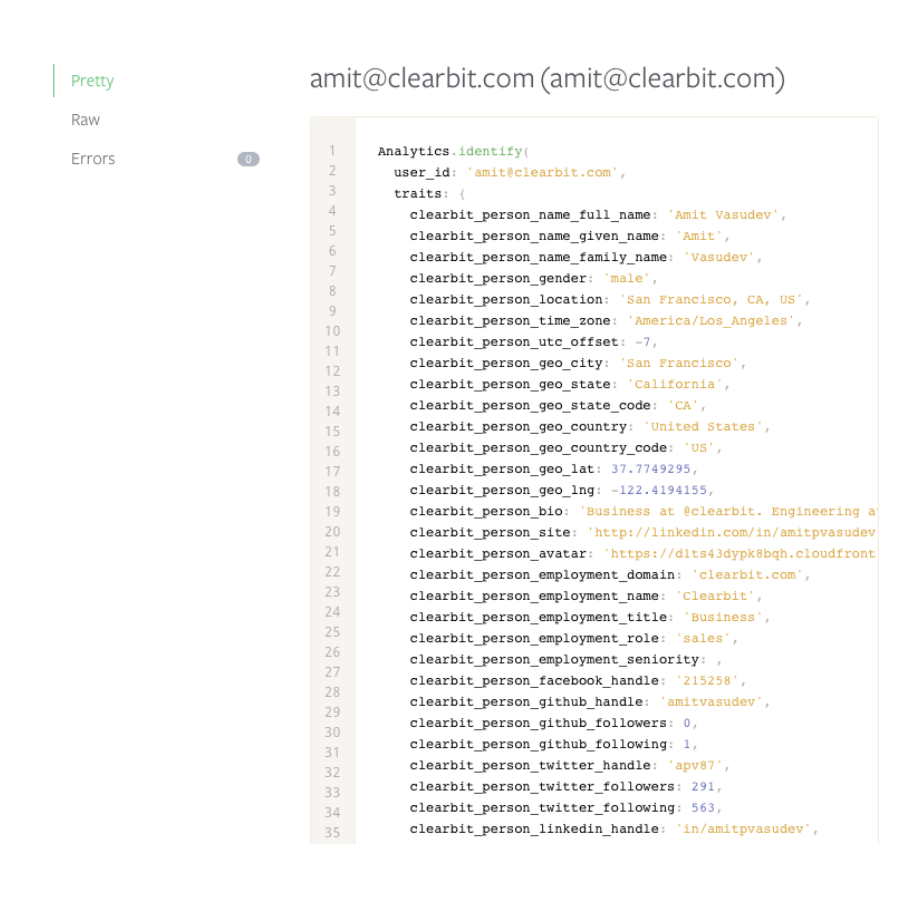 4. Customize trait mappings (optional)
If you'd like you can customize which specific Clearbit attributes are sent to Segment, or change the names of the mappings in the Segment settings page in your Clearbit account.
Backfilling: By default, the integration will only enrich users identified after the integration is enabled. If you'd like to backfill data you'll need to fire a new identify event in Segment for all existing users you'd like to backfill.