Set up SAML authentication with Google SSO
These instructions outline the steps that your Cloud Identity or Google Workspace administrator must take to create, activate, and assign users to access Clearbit apps through SAML authentication.
Before you begin: Initiating and completing the SAML authentication setup requires collaboration with a Clearbit Implementation Manager. Please contact our team for assistance.
Create a custom SAML app in Google Workspace
Clearbit integrates with Google SSO through a custom SAML app setup, and is not available in Google's integration library.
To create the custom SAML app navigate to

Apps > Web and mobile apps in your Google Workspace. In the dropdown click Add app > Add custom SAML app.


Provide a name for the app (e.g. Clearbit). Optionally, add a description and icon (we
recommend this icon), and click Contine.
Share your SAML app details with the Clearbit team
Scroll down to Option 2 on the Google Identity Provider details page. Copy and share the following information with the Clearbit team
SSO URL
Entity ID
Certificate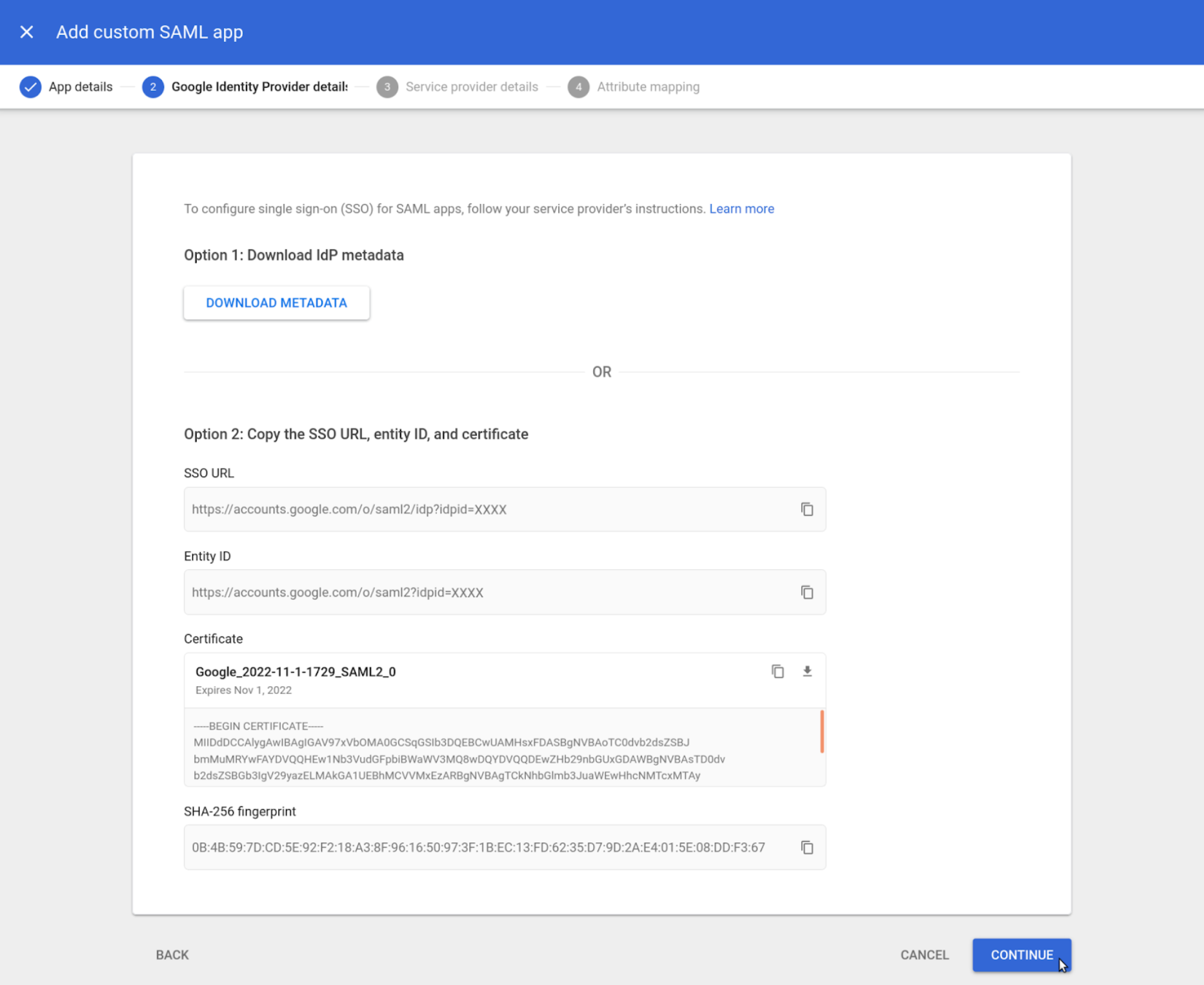 Once the Clearbit team receives this information, will be updated in our system to ensure you are able to complete the connection between applications.
Fill out the service provider details
The Clearbit team will share a unique ACS URL and Entity URL. After sharing the SAML app details in the previous step...
Click Continue and fill in the configuration form using the information provided:

ACS URL

:

A unique Single Sign-On URL will be provided by the Clearbit team.
Entity ID

:

A unique Service Provider Entity ID will be provided by the Clearbit team.
Check Signed response
Name ID format

: EMAIL

Name ID:

Basic Information > Primary email

Use the Add Mapping button to set the following attributes (required):

First name → firstName
Last name → lastName
Assign users or groups to the custom SAML 2.0 app
To identify all of the users who currently have access to your Clearbit account, navigate to Teams > Users in the Clearbit dashboard.
To assign users to the app, click on the User access panel and provision access to the appropriate groups or organizational units that you would like to grant access to Clearbit.
Please Note: All users who are granted access to the Clearbit SAML app will be granted user access to the Clearbit account. If a user does not exist in our system, we will create one automatically.
Enable SAML authentication
SAML authentication must be enabled by a Clearbit employee using the information you shared in the previous step.
Once you have successfully created the SAML app, shared your app details with the Clearbit team, assigned users, and are ready to enable SAML authentication... contact us and we will complete the setup process!
If you would like to coordinate the enablement and testing of your app, our team is happy to arrange a call to complete the setup together and answer any questions you may have.
Learn More