How to build a pipeline acceleration campaign on Facebook & Instagram
Pipeline acceleration campaigns are designed to surround influencers and decision makers with ads while they're in an active sales cycle.
These campaigns are designed to maximizing share of voice (SOV) and the end of the buying cycle. Executed well, it creates a lasting emotional connection with your buyers, improves brand sentiment, and increases the chance of a successful deal.
Common creative includes testimonials, reviews, customer stories, ROI reports, and product videos.
Why Facebook and Instagram?
Facebook and Instagram are the ideal platforms if your goal is to get your buyers' attention. The average US adult spends 38 minutes per day on Facebook. On Instagram, they spend 53 minutes per day.
The goal of pipeline acceleration campaigns is to maximize impression-share. With daily engagement numbers like those, Facebook and Instagram are no-brainers.
1. Create a new account-based Prospect Audience
In the Clearbit platform, navigate to the Audiences tab and click Create New Audience > Advertise to new prospects.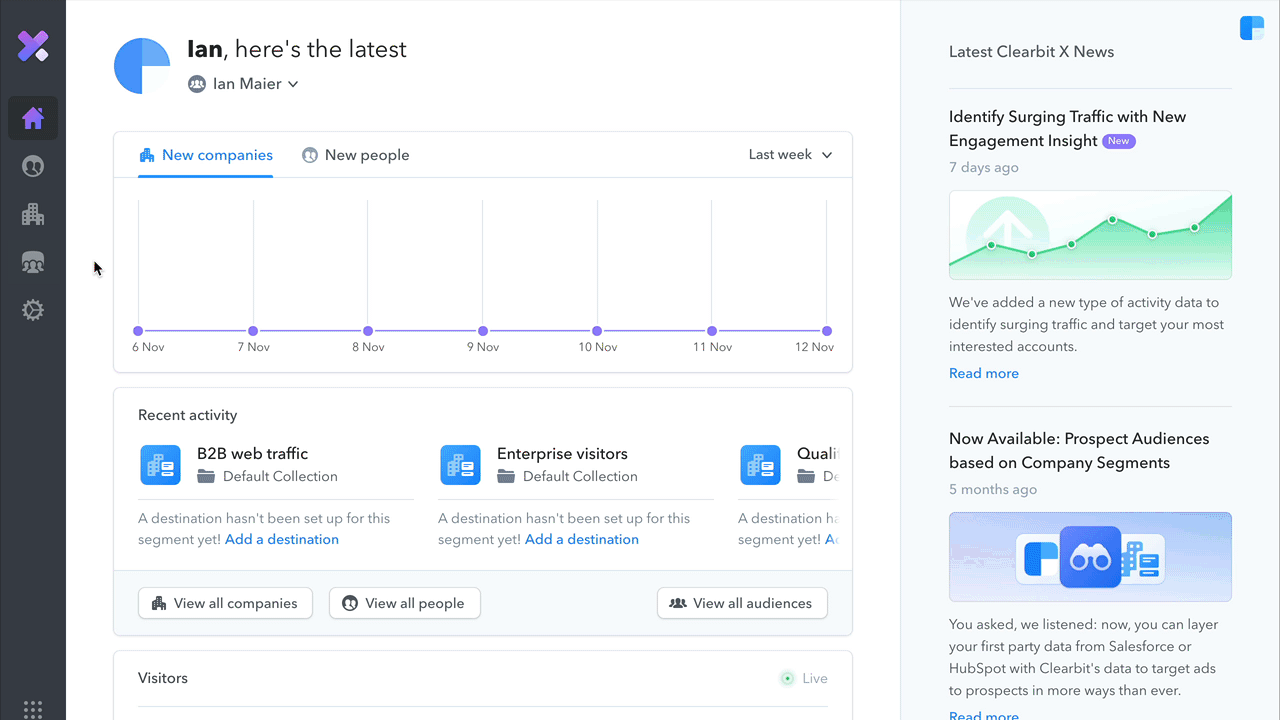 Select Prospect from an existing company segment to build your dynamic account list.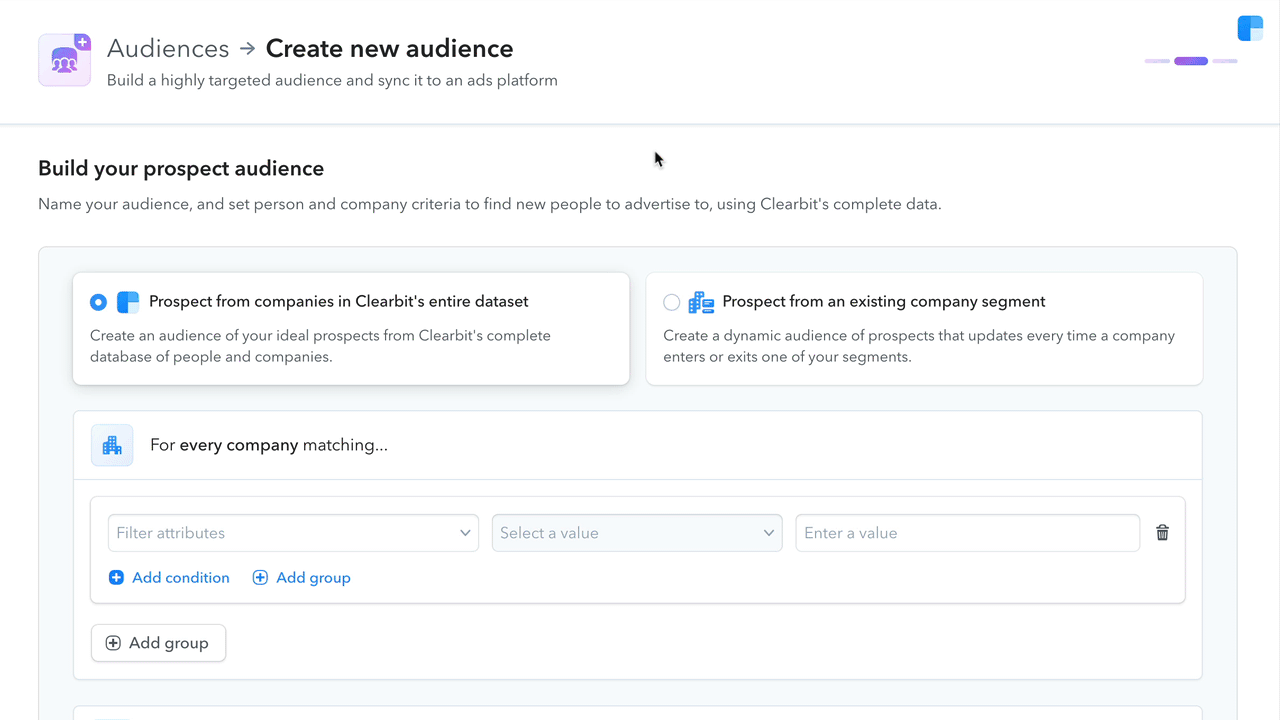 2. Create (or select) a Company Segment
Company segments allow you to prospect into a dynamic list of accounts, based on their stages in the sales cycle.
When a sales rep opens a new opportunity (or deal), Clearbit will automatically prospects into that account, building an audience of decision makers and influencers according to the titles, roles, and seniorities you define.
3. Define the criteria for companies in active sales cycles
Use your CRM fields to build a dynamic list of companies in active sales cycles.
Example: Open Opportunities in Salesforce
Closed (Boolean) - When the Closed field is marked False, the opportunity is open.
Stage - If your organization has early stages that you would like to exclude, we recommend using the Stage field instead. Stage gives you granular control over the stages that are included in your campaign, and excluded. In this example, we exclude stages 1 and 1.5 to focus our impressions on pipeline that has been qualified by the sales team.
Type - Important if your Salesforce org uses opportunities to track renewal opportunities. Use the Type field to only select new business opportunities, and exclude renewals.
4. Define the decision makers and influencers to target
Account-based Prospect Audiences allow you to reach a broader set of people than you may have in your CRM.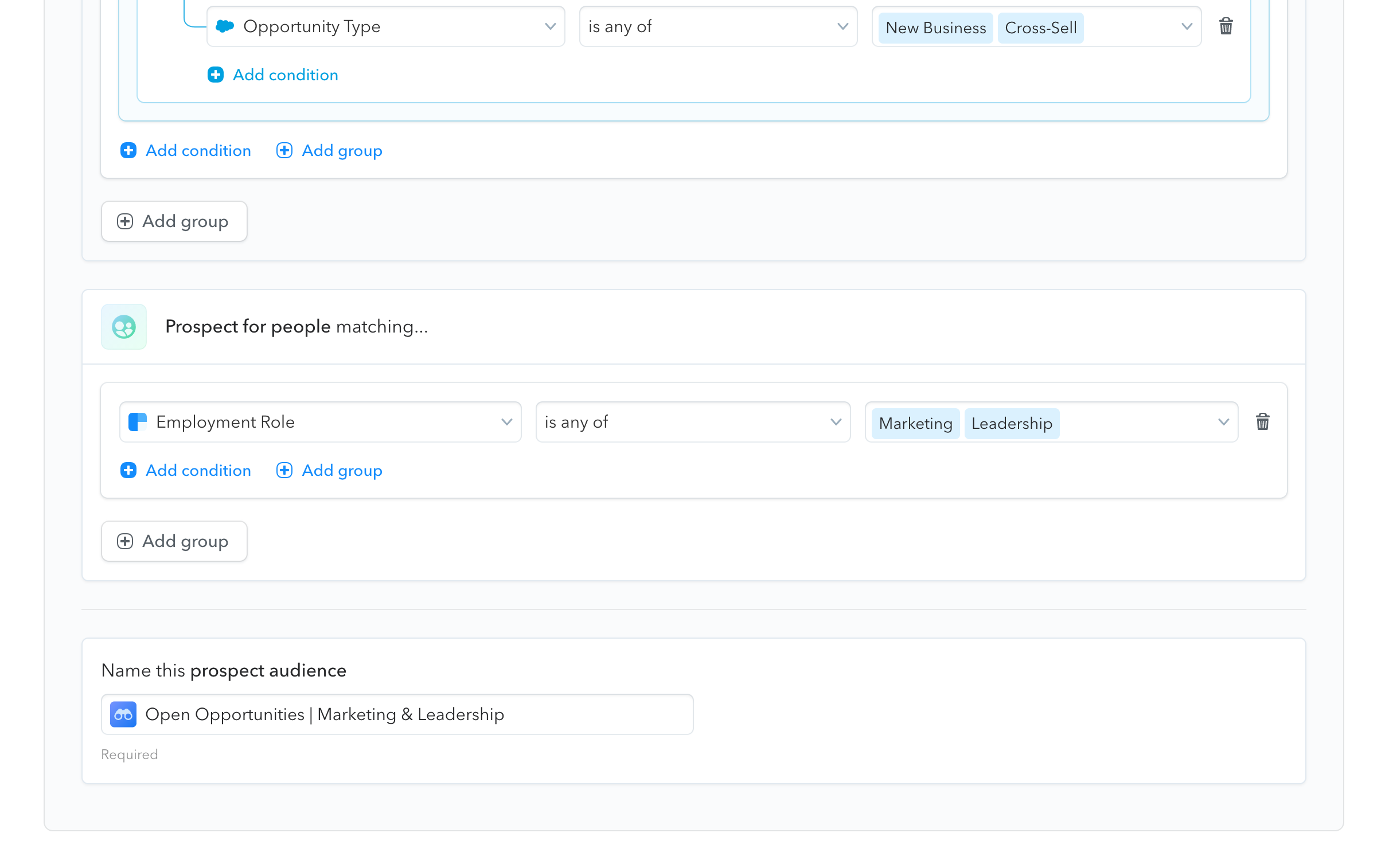 Instead of limiting your ad target to the few contacts assigned to an opportunity, this strategy allows you to expand your influence to every person with a voice. Think about all of the users, influencers, decision makers, and budget-holders.
Keep your audience broad! The low cost structure of brand awareness campaigns makes it easy to maximize impact without hurting your wallet.
3. Sync your audience to Facebook
Select your Facebook Ads Manager account from the dropdown and click Create & Sync Audience.
The Audience will populate in Facebook Audience Manager and be available as a custom audience in your campaigns.
4. Launch your Facebook and Instagram campaign
We recommend using campaign objectives that maximize impression-share.
Brand Awareness - This objective maximizes the chance that people see and remember your ad. They do this using what Facebook calls "estimated ad recall lift," which is measured by

how many people Facebook estimate would remember your ad if we asked them within two days.

Reach- The reach objective maximizes the number of people who see your ads and how often they see them. The benefit of using Reach is that you can define the frequency and schedule of your ad impressions. For long sales cycles, you can spread out the impressions over a series of weeks (or months) to provide consistent engagement without overwhelming your prospects.