Run an Outbound Air Cover Campaign on Facebook
Last Updated: August 1, 2022
For pricing information, please fill out the demo-request form on our pricing page to get in touch with a sales representative.
Outbound air cover campaigns work by surrounding prospects with brand awareness ads designed to maximize impression share.
Air cover ads typically showcase product videos, testimonials, reviews, and educational content designed to influence prospects before the sales team begins their outreach efforts.
Clearbit automates the audience orchestration process, automatically adding new prospects to Facebook, Instagram, Youtube and Google Display (GDN) campaigns whenever a rep sequences a new lead.
Skip Ahead to: 
How To Run an Outbound Air Cover Campaign on Facebook
In this example, we will use Clearbit + Outreach and our integration with Salesforce to demonstrate how you can orchestrate an air cover campaign. Our sales team at Clearbit uses Outreach to coordinate their outbound call, email, and engagement programs... and we're big fans!
However, you can run a program like this with any sales engagement software provider that is capable of mapping the prospect's sequence status to a field on your Salesforce, Hubspot, or Segment records.
1. Head over to the Audiences tab. Hit Create a new audience and choose Advertise to contacts.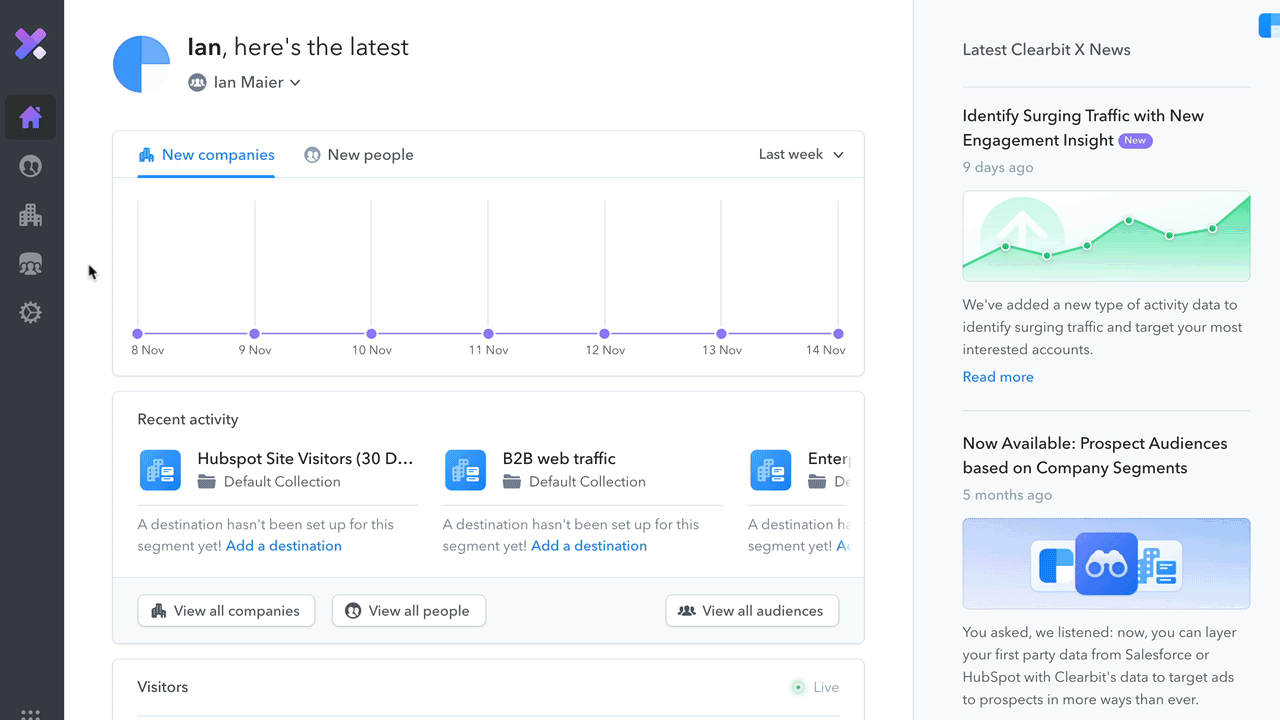 2. Create a new Person segment, or choose an existing one. This will give you access to person-level attributes (like Lead and Contact record fields from Salesforce) that you can use to create a dynamic segment.
Give the segment a name and choose a collection (folder) so you can reference it for other audiences later. We called our segment Actively Sequenced in Outreach.
3. Define your active sequence criteria
With Clearbit's segment builder, we can easily create a dynamic list that automatically adds and removes leads from an audience when they sequenced in this case, with just one field.
Even better, the segment automatically removes users from the audience when they are no longer the focus of sales outreach (saving budget from being spent on wasted impressions).
In our example, we selected Outreach's Actively Being Sequenced field from our Lead records in Salesforce.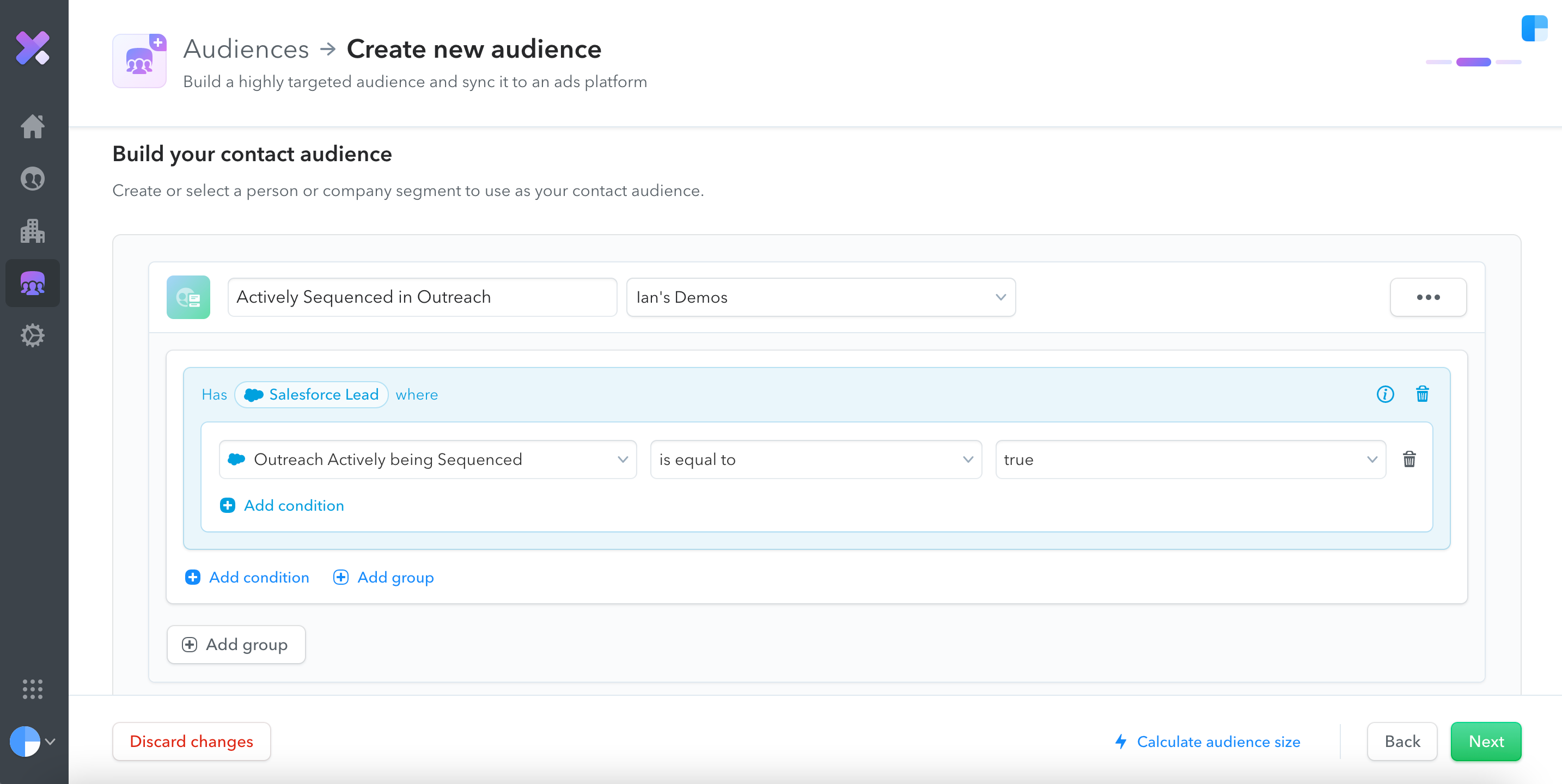 📝 Please note:
Even if you're using Outreach, your team may use a different field name for the Actively Being Sequenced status field. Check out
this help center article from Outreach
to understand your current field mappings (or set it up for the first time).
How To Sync Your Audience to Facebook Ads Manager
Select Facebook Custom Audience.
Choose a Facebook account and Facebook pixel. You can edit the audience name or keep it as is.

Click 

Create and Synch Audience button to create a Custom Audience in your Facebook Ads Manager account.


📝

Please note: 

Contact Audiences refresh in Clearbit every 24 hours to reflect daily changes to your segment, adding new audience members and removing old ones from your Facebook Custom Audience.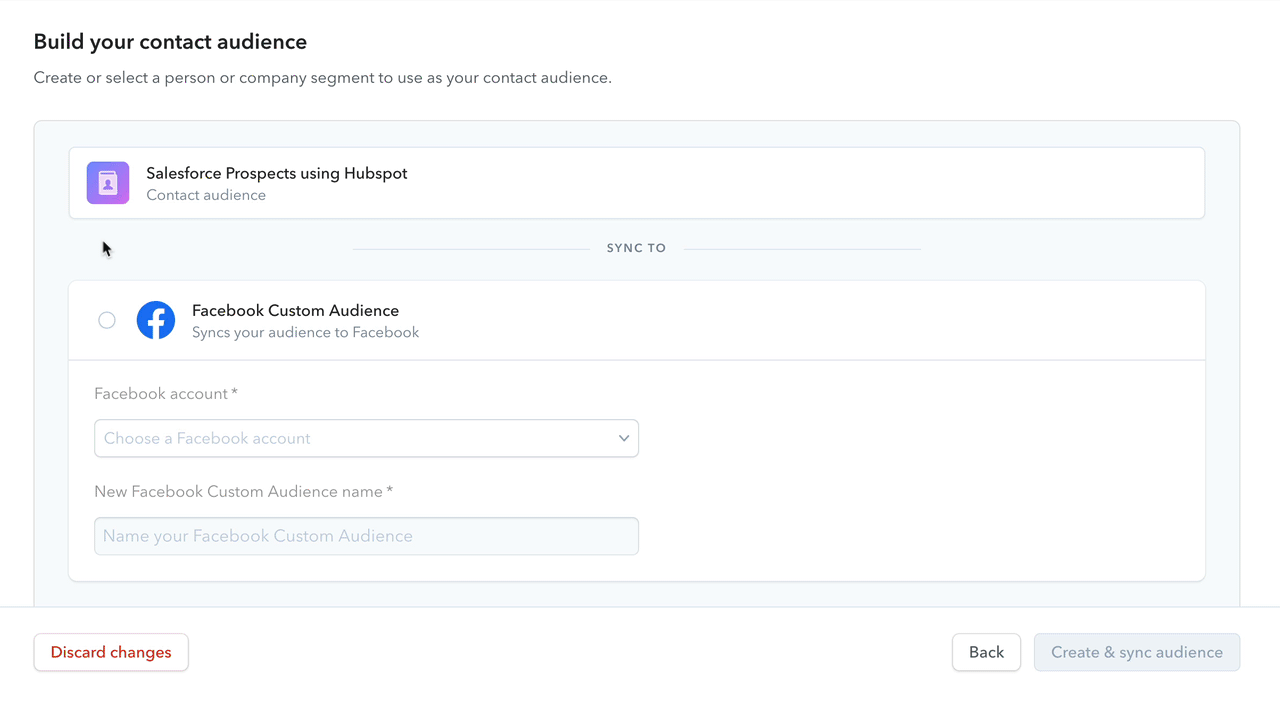 Your audience will be immediately available in Facebook Audience Manager (although it may take 1-4 hours for Facebook to process the data and your audience to reach its full size).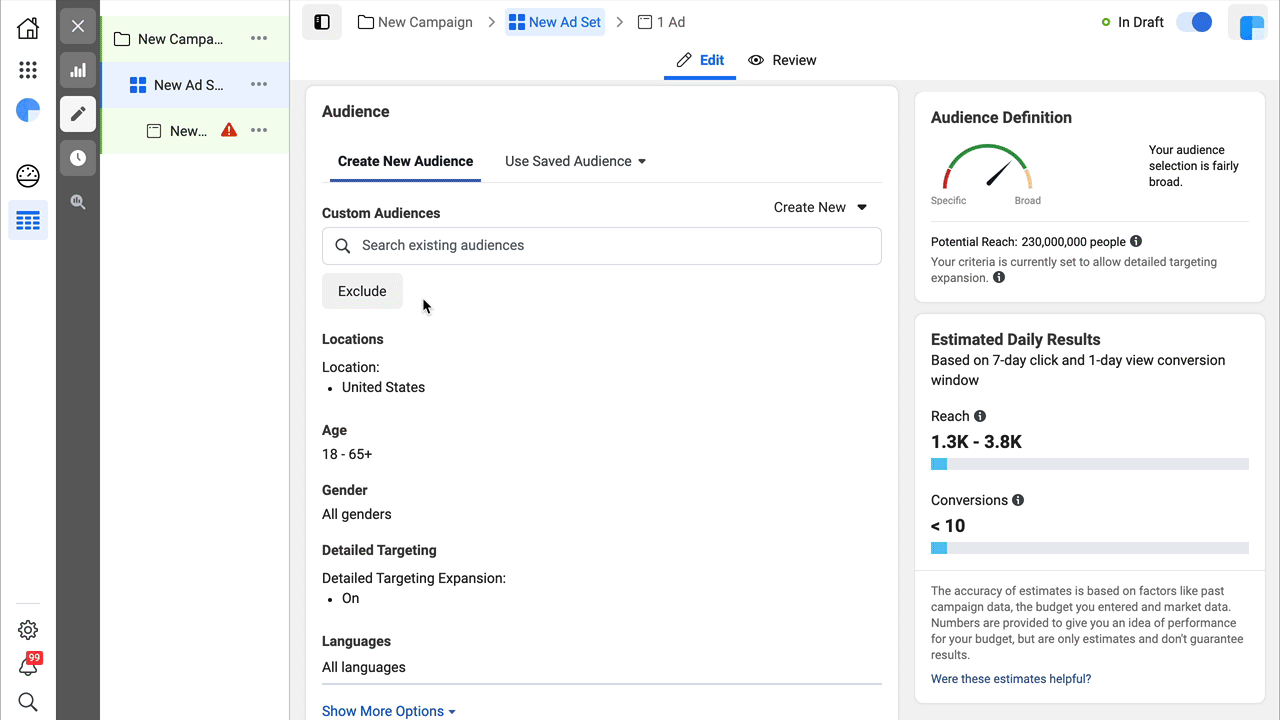 How To Use the Brand Awareness Objective
For air cover campaigns, we recommend using Facebook's Brand Awareness objective.
This objective maximizes impression-share and optimizes for the likelihood that people see and remember your ad.
Facebook measures this activity using what they call "estimated ad recall lift," which is measured by how many people Facebook estimate would remember your ad if we asked them within two days.
This kind of impression-maximizing bid strategy will guarantee broad coverage, and high enough frequency to have a meaningful impact on the user's memory and brand sentiment.
But... shouldn't I use an acquisition objective?
You might feel tempted to use a custom conversion objective. After all, wouldn't we rather get inbound form submissions if we can?
Not quite. Facebook's optimization algorithms are designed to maximize the objective you choose, while minimizing spend on impressions they think are unlikely to convert. Using a down-funnel objective will actually throttle the number of people Facebook attempts to reach, and minimize the number of impressions they show.
In other words, your campaign will feel more like a bush plane dropping potatoes, and less like air cover from a swarm of F-16s.
Even worse, Facebook auctions impressions based on something called Estimated Action Rate, meaning they charge more $$ for harder to hit objectives (like form submissions).
Less effective, and more expensive is a bad combination!