Setting Up Clearbit Enrichment for Marketo Forms
If you are ready to integrate Clearbit into your Marketo forms, you can follow our setup wizard at https://marketo.clearbit.com/dashboard/forms
If you are interested in learning more please email us at success@clearbit.com or check out our demo page at https://clearbit.com/marketo-demo
Benefits
The new Marketo Forms integration has a lot of benefits including
Increased conversion rates
Better quality data from signups
Integration Steps
1) Update your Allowed Referrers
As part of setting up Clearbit for Marketo Forms, we need to be secure about how Clearbit Enrichment is happening. To this end, you'll need to update your Allowed Referrers in your clearbit.com dashboard.
Click here to view your API settings.
Scroll down to the Allowed Referrers section.
Add the domain your form is going to appear on. For example, if your form was going to display on a landing page at https://example.com/my-landing-page you would add example.com.
To make sure the form works on all subdomains, you can also add the domain in the format *.example.com
Do NOT add or edit the value in the Webhook URL field. This configuration is not related to this integration.
Click Update Account and you're done with this part.
2) Create the Clearbit Form Status Field
To allow you to access whether Clearbit has returned, or has not returned data about a Person in your Marketo form, we'll need you to add a Clearbit Form Status field to your instance. This helps power Clearbit's dynamic enrichment.
The API Name of the Field must be clearbitFormStatus
Go to the Admin section
Expand the Database Management group
Click through to Field Management
Click New Custom Field
Fill the form with the following properties:

3) Create your Clearbit Form
Once you've got the required Clearbit Form Status field setup, the next step is to go ahead and create the form.
Go to the Design Studio
Click New
Select New Form
Fill with the following properties:

4) Add Email Address to Form
The only required visible field is Email Address, so make sure to add the following:
Add new field with the following values:

5) Create the Clearbit Form Status Field
There are a couple of fields that we need to add to the form in order for it to work properly with Clearbit data. These fields should be hidden so your users don't see them.
Add a new field with the following values:

6) Add Dynamic Fields
The last part of editing your form involves adding as many of the mapped data points show below as you'd like. In order to make them dynamic, you'll want to enable Visibility Rules and fill them out with the values below. Some data points like Company Tech might not make a lot of sense to add to this form, but feel free to use your best judgement.
Add a new field with the following values:

For example on Last Name: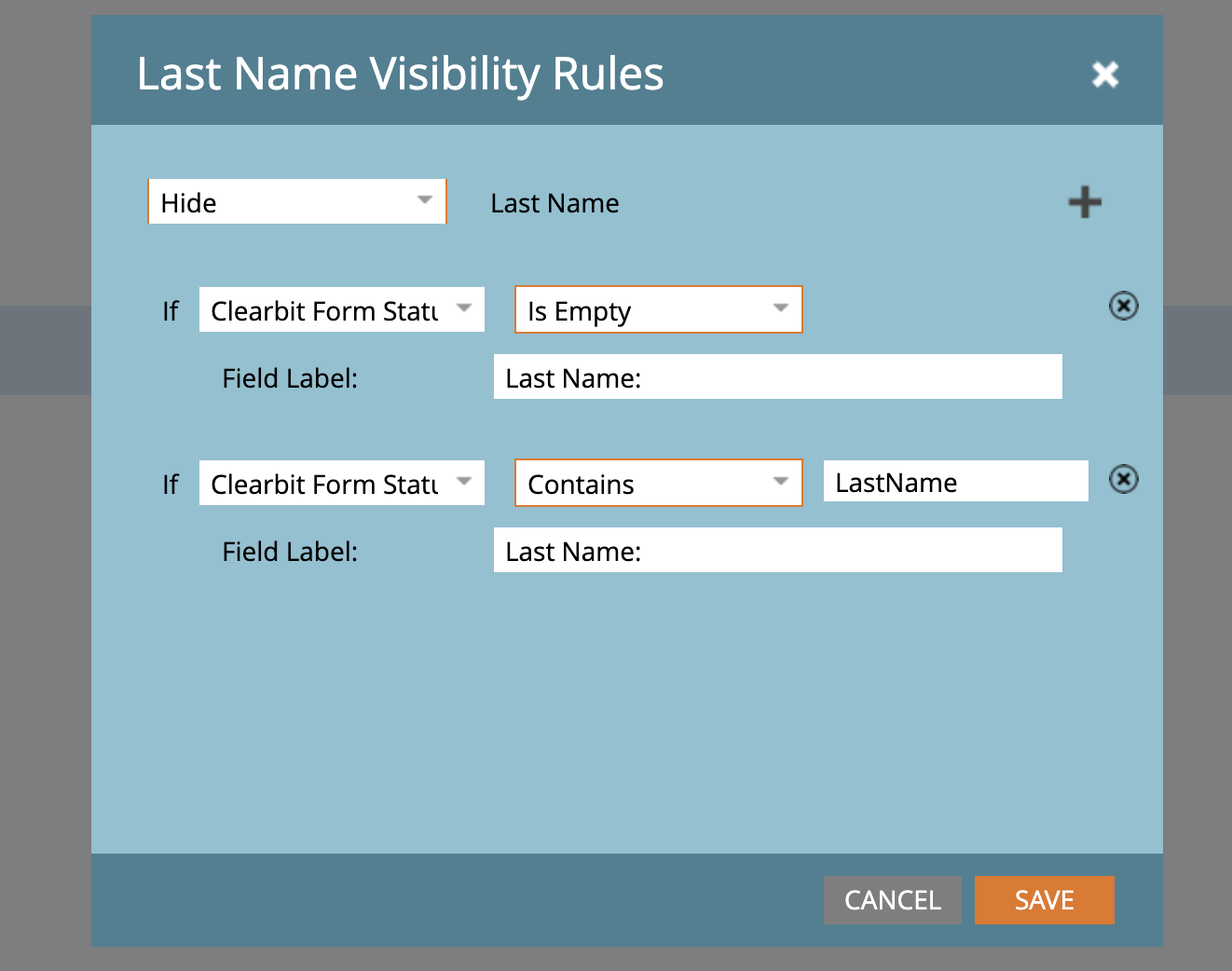 7) Add JS to Page
The last thing you need to do is save your form, and add both your forms JS and the following Clearbit Forms JS snippet to the page where the form will be hosted.
Click Finish, Click Approve and Close
Click Form Actions
Click Embed Code
Copy and paste the Marketo embed code across to your page
Copy and paste this Clearbit JS code right under the Marketo embed code:
Note: Make sure you replace the pk_YOUR-API-KEY-HERE placeholder with your actual publishable API key, which can be found here. Keep the quote marks around the API key.
<

script type="text/javascript"> var pollForDefinition = function (scope, varname, callback) { if (typeof scope[varname] !== "undefined") { return callback(); } var interval = setInterval(function () { if (typeof scope[varname] !== "undefined") { clearInterval(interval); callback(); } }, 250); }; var script = document.createElement("script"); script.src = "https://marketo.clearbit.com/assets/v1/marketo/forms.js"; script.async = true; script.setAttribute("data-clearbit-publishable-key", "pk_YOUR_API_KEY_HERE"); script.onerror = function (e) { console.log("Clearbit Form JS unable to load"); pollForDefinition(window, "MktoForms2", function () { MktoForms2.whenReady(function (form) { form.setValues({ clearbitFormStatus: "Clearbit Form JS unable to load" }); }); }); }; document.querySelector('head').appendChild(script); </script>