Set Up Clearbit Forms for Marketo
Last Updated: May 19, 2022
Make sure you never miss a lead again. Clearbit Forms to shorten your Marketo forms, make sure Clearbit captures the data you're interested in and saves it to your corresponding fields in Marketo.
Skip Ahead to:

Set Up Clearbit Forms for Marketo
Install the Clearbit Tag on your Marketo website.

In Clearbit, click the

Forms

tab, then the

Configure

button in the Marketo box.

To define your Allowed Sites, click the

Add domain

button, type in your site, and click

Save

.





Allowed Sites defines which pages of your website will activate Autofill or Form Shortening, and which pages to ignore, directly in the configuration interface.

Allowed Sites are required . If Allowed Sites are not defined, Clearbit will not activate Forms on your website.


💡 Clearbit Tip: To autofill or shorten forms at a specific address. Enter the specific URL (e.g. example.com or example.com/blog) . To allow autofill & shortening for all forms on a specific domain enter a wildcard (e.g. example.com/* or *.example.com/*). If you'd like to learn more about Allowed Sites click here.

Under the

Form Settings

section, choose whether you'd like to enable:

Form field Autofill -

All fields will be visible when enriched

Form Shortening -

Fields will be hidden by default, and only show if Clearbit cannot

enrich the field

Identify on Submit - Identify calls allow you to match individual People (ie, email addresses) to website activity. We will automatically match email addresses submitted through Forms to identify calls. This is only available for Hubpsot, Marketo and Pardot forms.
How To Create a Clearbit Form Status Field in Marketo
To power Clearbit Forms, you'll need to create a custom field that will be used to check whether Clearbit returned data about a lead or not.
Log in to your

Marketo

account and go to the

Admin

section in the navigation bar.




Select

Field Management

from the left panel, under the

Database Management

group.




Click on

New Custom Field

from the main panel and create a field with the following properties:



Object: Person

Type: String

Name: Clearbit Form Status

API Name: clearbitFormStatus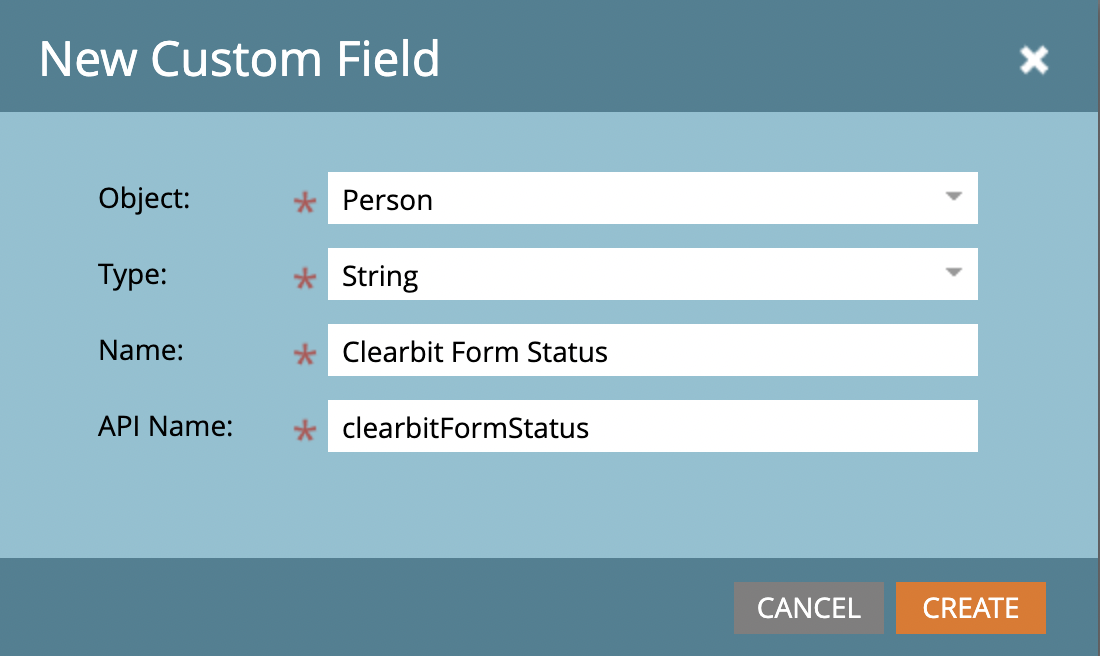 4. After you're done, click Create.
📝 Please note: the API Name of the field must be exactly clearbitFormStatus in order for it to work correctly.
How To Create Your Marketo Form
The next step is to create the form you'll be using on your website.
Go to the

Design Studio

section of the navigation bar.




Click

New

and select

New Form

from the available options below.



Fill in the modal with the appropriate information like in the example below:


Let's now add the custom field we created earlier (Clearbit Form Status) and set it's field type as hidden so that users won't see it.


Set Up Field Mapping
Your field mappings determine what data will be written to each field on a lead when the Clearbit enrichment webhook is triggered.
Navigate to your Form Field Mapping tab from the Configuration page.
Click Add Mapping to create a new field mapping.
Select the Clearbit Attribute you would like to sync. Then choose the corresponding form field you want to enrich with that data.


Related Articles