How do I create a Job Change Report in Salesforce?
With Clearbit's proprietary job change data, it's now possible to see when your existing leads, contacts, or champions change jobs.
Our inactiveAt field represents the time at which we first believe a Lead or Contact became inactive at that position. It's updated nightly in Salesforce and is powered on 2 key data-points:
Email Deliverability: once a month, we'll ping the email to make sure it's active.
Employment: once a month, we'll check the Clearbit Person employment data for changes.
You can get started by running a report on all Leads (or Contacts) where inactiveAt has a value. Within a few seconds, you'll be able to save your time a heap of time by weeding out a group of stale contacts.
Create a Job Change Report
The way to surface this insight is to pull a simple Salesforce report.
Follow the steps below to get started:
In Clearbit Analytics - choose the first report "Recent Contact and Lead Inactive Emails"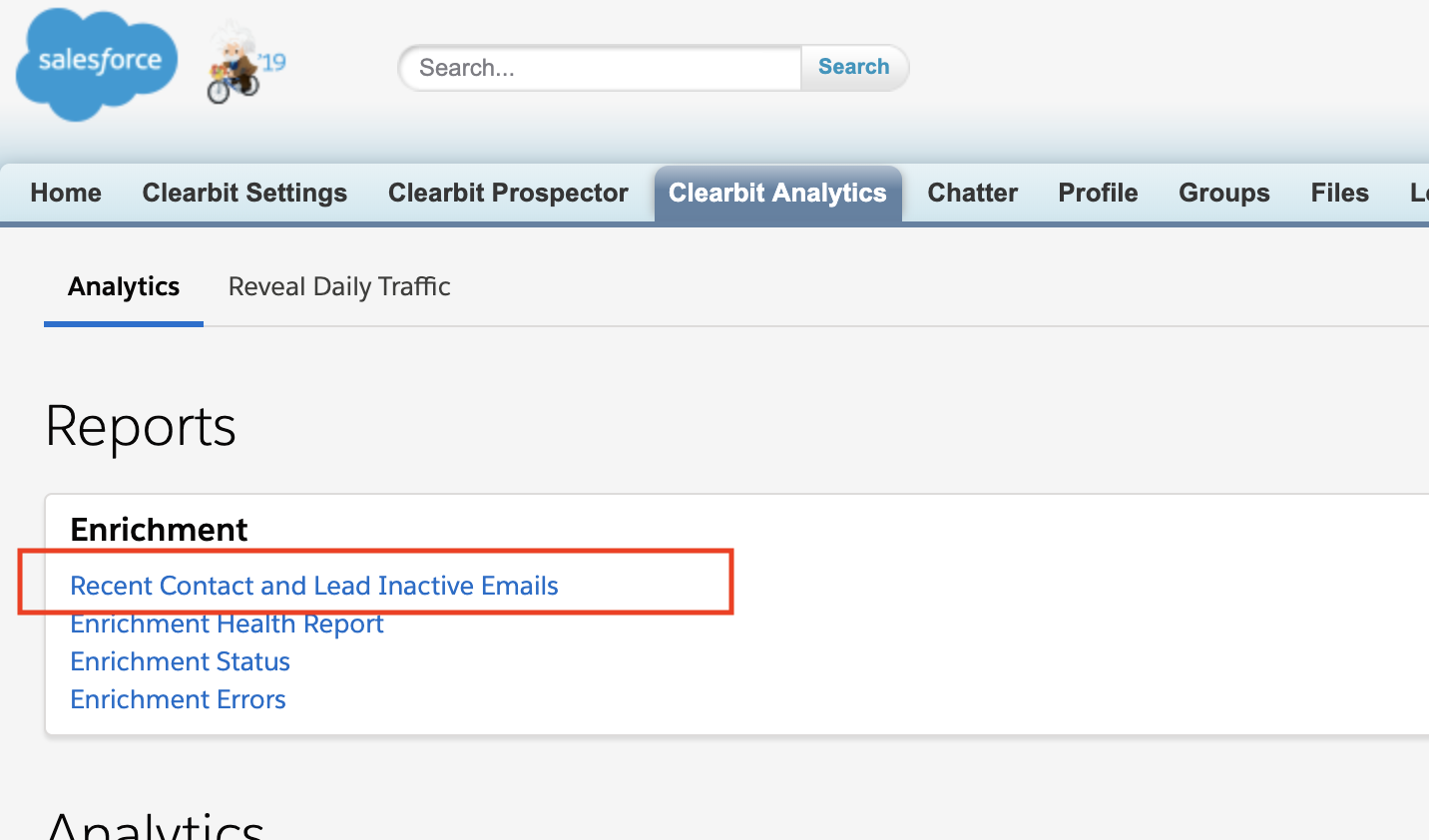 Manually, you can do this as below:
Create a new report by selecting the New Report button.
Under Select Report Type, click the + that's next to the Leads folder.
Choose the Report Type: Leads and Clearbit and hit Create.

(to run a report on Contacts, choose Report Type: Contacts & Accounts and Clearbit)
From the left-hand pane, double-click on these fields to see them in your report:


email
Clearbit: inactiveAt
Clearbit: Linkedin Handle
Lead Owner

Now, we'll set a date range and add a filter:

Set "Show" to All Leads.
Set the Date Field to Create Date and Range to All time.
Add a filter for Clearbit: inactiveAt not equal to blank.

Run the report
And that's it!
As a best practice, we'd recommend scheduling the report to run once a month.