Clearbit Capture FAQ
Last Updated: May 31, 2023
Skip Ahead to:
What Does Clearbit Capture do for Me?

Clearbit Capture turns hidden intent signals into actionable accounts, contacts, and leads. Automatically generate buyer contacts from your best-fit, high-intent accounts so your marketing and sales teams can engage them when the time is right.
How does Clearbit Decide What Fields to Show on the Destinations Page? Are the Fields Customizable?
Yes, they can be different! To keep things as fast as possible to set up, we limited the fields we show on the Destination tab to only the required fields for that customer's Salesforce instance.
Does this Functionality Only Add and Create Accounts, or Can it Also Edit or Update Existing Accounts in Salesforce?
This functionality only creates new accounts without any Clearbit enriched info. Updating existing accounts (as well as enriching the newly created account) happen via the normal Enrichment process.
Will Capture be able to Update Contacts for Any Existing Accounts in Salesforce?
Yes, it can add contacts to any existing Salesforce account if that account enters the Audience.
If I do not Want One Person on my Team to Abuse or Use Up Credits, Can I Cap it by Individual or Account?
You cannot cap it by individual, however, we can limit the number of contacts or leads that are created for any given company in Salesforce via the UI.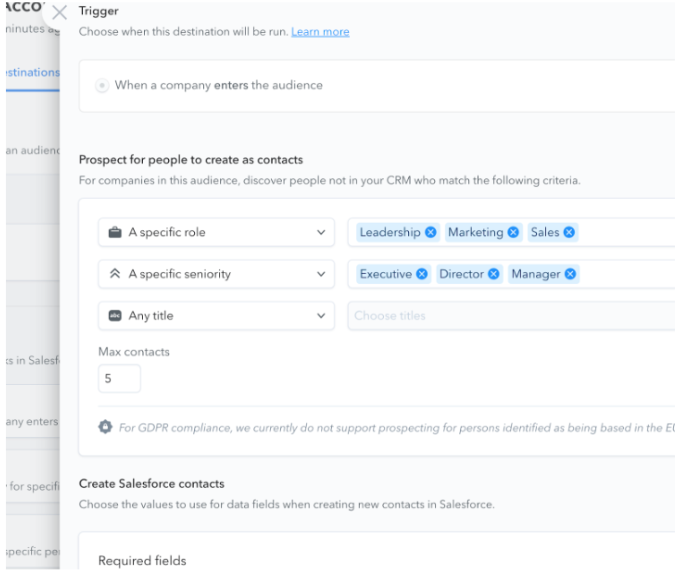 When Can I Start Tracking MUVs in the Platform, or the Number of Accounts Identified?
You have the ability to track Records created in the 'Usage' tab of the platform (inside APIHub). It is not currently broken out by record type, however, so it combines Accounts, Contact, Lead records to match our pricing model.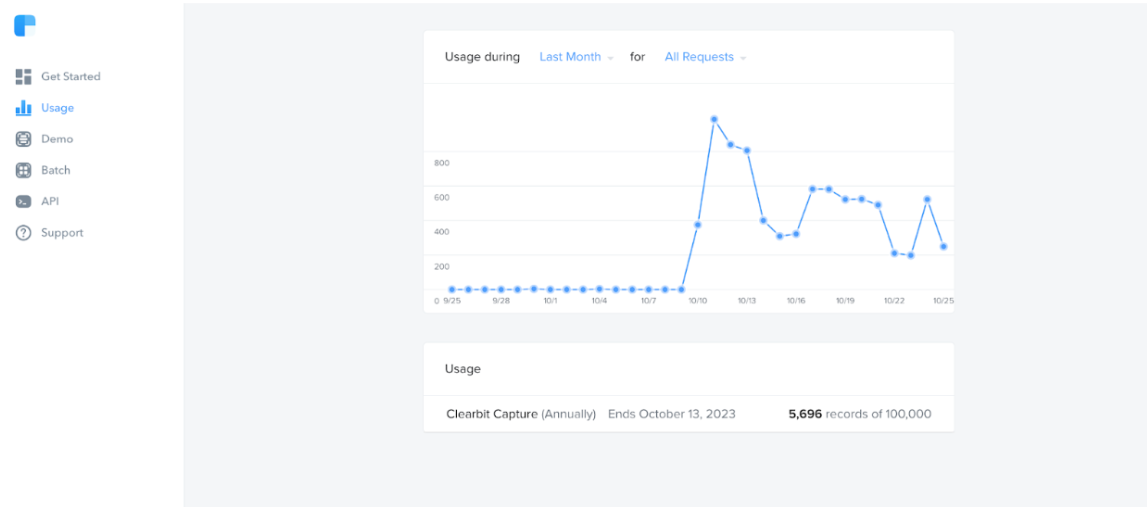 Is there a Way for Non-Salesforce Users to Use the Contact Creation Portion of Capture, via Zapier or Something Similar?
No, there's easy way at this time. However, expanding Capture to Hubspot is on our roadmap!
If I Already Have Reveal, Enrichment, and Prospector, What Can Capture Offer Me?
With Clearbit Capture. two key benefits get added:
You can now auto-create Accounts via Reveal! This was not possible before with other products.

We can automate the creation of Contacts, so you don't have to manually click around prospector. We estimated that individuals spent 1-2 hours a day manually clicking to 'add contacts' one by one in legacy Prospector.
What Data Points are Sent to Salesforce when a Records is Created? Is the Phone Number Field Included?
It is the bare minimum fields shown in the UI and does not include Phone Number by default. We only ask for the minimum required fields that you configure for your Salesforce API. For most customers, it's:
For Accounts:

Account Name and Website (with optional fields for Account Owner and Account Status)

For Contacts:

Last Name, Email Address, Contact Source (with optional fields for First Name and Contact Owner)

For Leads:

Last Name, Lead Email Address, Lead Source (with optional fields for First Name, Status and Lead Owner)
Will there Be a G2 Tab Filter Under Audiences Along with "Clearbit Attributes, CRM and Page Views" within the Clearbit App?
Yes, this will be coming soon!
If I've Only Configured the Contacts Destination, What Happens When the Account does not Exist in Salesforce?
Contacts cannot be created without Accounts in place. It is an invalid destination. If you are looking for that use case, you'll need to use a Salesforce leads object.
How Does Clearbit Make Sure it's not Creating the Same Records Multiple Times?

We dedupe based on the website domain. In addition, we include aliases. So, if we see that 'google.com' is already present in Salesforce, we would not add that company (based on the domain name). In addition, we wouldn't add it if we saw a common alias like google.co either.
What if I don't Like the "Captured" Lead? Sort of Like When I Don't Like the Movie Netflix Recommends?
The answer here depends on why you don't like the lead.
If it's a privacy concern: Any lead that could potentially conflict with GDPR is not surfaced.

If it's a "wrong person" concern: You're able to adjust their audience filters to better target the right job function, title, seniority, etc to get closer to their ICP.
Does Clearbit Send Any Firmographic Information Along with the Account Record? Does it Send a First Name or Phone Number with a Contact or Lead Record?

We only send over the fields required by salesforce. By default these fields are:
Account Level:

Required: Account name, website

Optional: Account owner, Account type

Contact Level:

Required: Last name, email address, contact source (clearbit created contact)
If "Industry" is a Required Field, Would Clearbit User Enrichment Data to Fill It?

Yes, if you have configured other required fields in Salesforce, those would also be completed by Clearbit.
I Don't Expect to Have Multiple Audiences with Capture Destinations. Why Wouldn't Each Person on my Team Build an Audience that Fits Their Territory?

This could work for a very small sales team. This could become an operational nightmare as territories change, reps take vacation, other routing tooling is implemented, etc. We would not recommend this approach for organizations beyond a couple of sellers.
Can Clearbit Send Page View Data (Last Page, Path) Alone with the Lead/Contact/Account Creation?
If you have purchased Clearbit enrichment as well, then yes.
How Quickly Does the De-duplication Process Work?

This would ultimately come down to which audience the company was enrolled in first. This can be measured in milliseconds, so there will always be an audience that fires first.
Can We Sync Up the Full Name Instead of Just Email?
Yes! We recommend mapping (and using) the First Name and Last Name separately to the Lead Record in Salesforce and then using that combination in your Salesforce/outbound.
You likely just need to show these two Salesforce fields (First Name and Last Name) on the Salesforce page instead of Full Name. The data should already be there and enriching.

How Can I Add More Recipients to these Emails? For Example, I Would Like to Add All my Sellers. Is there a Way to Include Full Names and Emails in these Emails?
Read this article for more details.
How Often are Contacts Refreshed to Ensure Companies Get the Most Updated Titles?
We trigger a refresh of the record if that contact or lead is 'asked for' at least once, and it's not been updated in 30 days. We also automatically trigger refreshes and updates every time we detect a change in employment.
How does Clearbit Acquire its Data?
Our proprietary indexing systems ("Clearbit Indexers") collect information from a variety of sources in order to compile "Attribute Data" about corporations, non-profits, and similar entities ("Companies") and the professionals that work for them ("Professionals"). A complete list of Attribute Data we make available to users of the Site and Services (defined below) can be found here.
Clearbit acquires the data used in its Services either through public datasets, third party paid sources or when users use our free tools such as our Logo API, and they contribute data back to us as a result of their use. You can read more about how we get our data here.
How does Clearbit Use/Re-Use the Data it Collects from or through Me?
To use Clearbit Capture, you only provide your Salesforce login information to Clearbit so we can sync all of your Salesforce users, accounts, opportunities, contacts, and leads (and to ensure Clearbit does not create duplicates). Additionally, by utilizing the Clearbit tag, you essentially provide us the IP addresses of all website visitors of Customer's website, but Clearbit will not use the IP addresses it receives from you other than to provide the matching domains to you
How Long does Clearbit Keep this Data?
Clearbit will delete all of this data within 30 days after you terminate your contract with Clearbit.
How Accurate is Clearbit's Data?
Clearbit focuses on making sure the Leads we provide you from our Prospectable data set are as accurate as possible. In particular, we focus on making sure the Leads/emails have a high deliverability. So, we focus on quality over quantity. You can read more about our security and privacy policies here.
Is the CEO of [Company Name] Really Visiting Our Site Three of More Times?
Clearbit creates Lead and Contact records whenever any person at the given company matches your Audience and visits your website. (Essentially, we are de-anonymizing the IP address at the company level). Then, we search that Company to find Leads who work at that company from our Prospectable data that match your Lead criteria, job role, etc. We're not explicitly saying that those individuals visited the website (due to privacy reasons), but we are saying that people from that Company showed intent on your website and these are Leads who work at that Company that would be good to reach out to as that Company is showing a spike in intent.

Can I Get a Summary of Leads Sent via Email?
Yes! We can set it up to send you an Email Digest summary of all the new Leads right to your (and anyone else) inbox each day including the individual reps! You can also customize the contents of the email as well to include the First name and last name. Here's a quick demo of how to set this up!
Can I Get an Extra License so More People on my Team can Use Clearbit?
We don't currently charge for extra licenses! Here's a tutorial on how to add more individuals to your Clearbit account. We don't currently have a way to limit folks to "read only" unfortunately, so anyone that you invite to the Platform will have full privileges. Consequently, it may be smart to invite carefully.