What are Destinations and Destination Triggers?
Last Updated: May 16, 2022
For pricing information, please fill out the demo-request form on our pricing page to get in touch with a sales representative.
Destinations are where you want Clearbit to notify you of a new person or company joining your segments. 
Skip Ahead to:
What are Destinations?
With Destinations, you can trigger any number of advanced marketing workflows. For instance:
Use the Facebook Custom Audience Destination to automatically sync any segment to a Facebook Audience and serve highly targeted ads using Clearbit, intent and SFDC data.
Use the Salesforce Destination to notify your account executives when an account with an open opportunity has a spike in traffic.
Use the Email Destination to send your sales team a weekly prospecting list of net-new accounts (i.e. accounts not in your CRM) that have hit your site in the last week and fit your ideal customer profile. 
Use the Slack Destination to s

end a notification to your customer success managers when one of their contacts leaves their job.
Set Up Destinations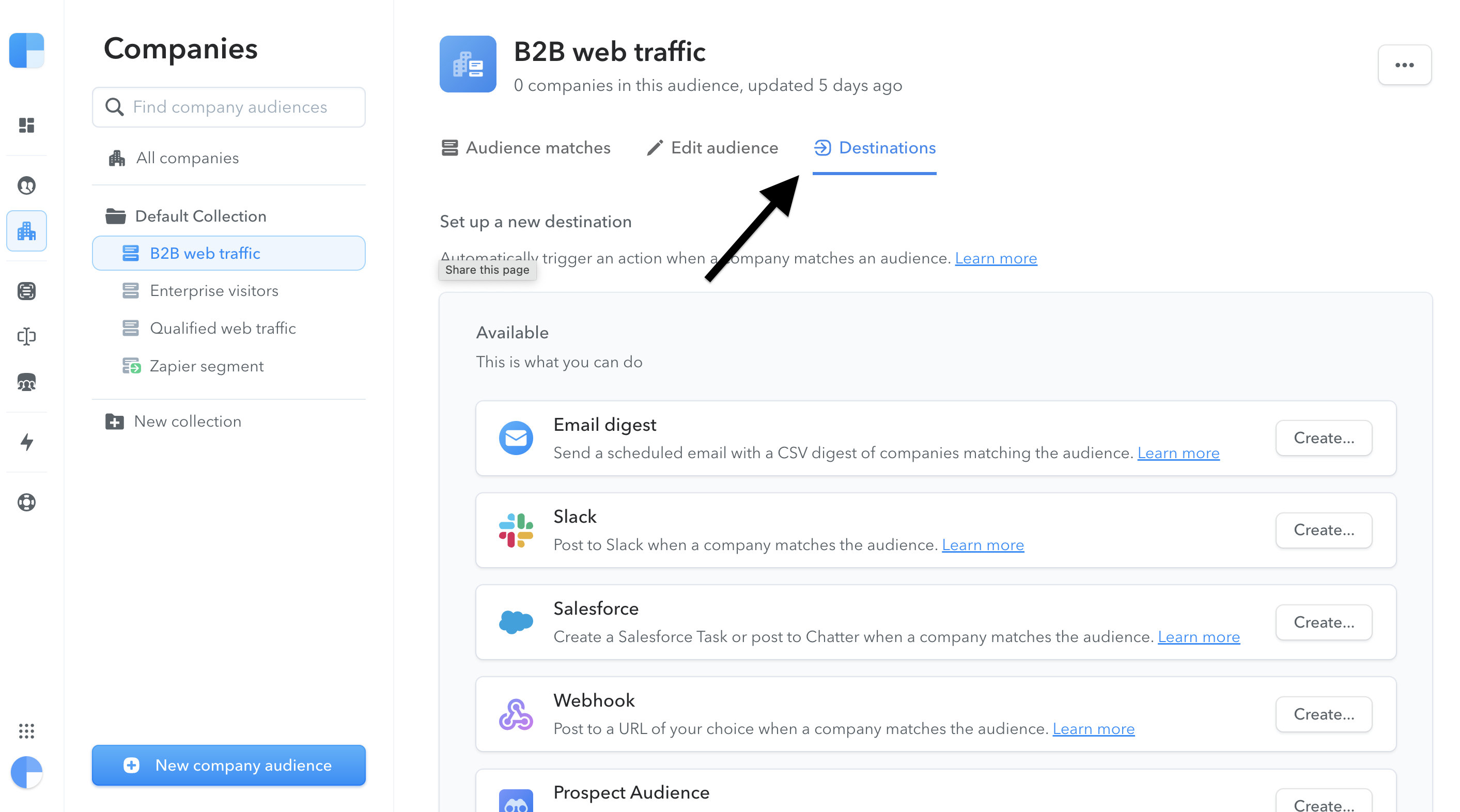 Click the Destinations tab while viewing any Segment.
Choose either an Alerting Destination, or an Ad Destination:


Alerting Destinations

---

Ads Destinations

---

Personalization

---

Custom HTML -

Execute custom HTML and JavaScript on your website when a visitor matches a segment

 
What are Destination Triggers?
For each Destination, you must configure a Destination Trigger, which is a specific condition that must be met for the notification to appear in your Destination. Example triggers include:
On page view - 

The Destination is triggered on every page view if a person/company matches an audience. This is ideal for real-time intent driven audiences, and is often combined with suppression settings to prevent a flood of notifications.

Audience Sync -

 

The Destination is updated to stay in sync with an audience. This is primarily used on Destinations like Facebook Custom Audiences where a person is added to the audience when they enter the audience and is removed when they exit the audience
📝 Please note: Not all Destinations support every trigger type.